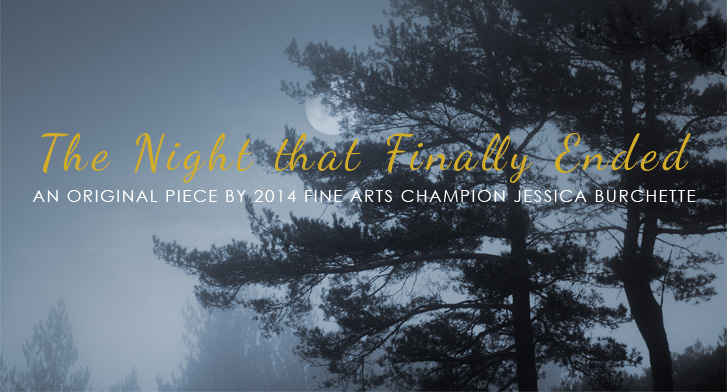 Jessica Burchette is the 2014 National Fine Arts winner for 8.2 Creative Writing Omega. This is her winning piece.
Darkness. Stench.
Bodies pressed against each other. Babies crying out.
The smell of death soon fills the room.
How did I get to this point? It all started one night on a small street in Germany that no longer has a name. My parents and my sister were fast asleep, while I was awake writing. There came a loud noise on the door and then a voice. "Open Up!" Then two more loud bangs. This can't be happening. I knew this would happen sooner or later though. Nazi Germany has been rising up more and more against the Jews.
I grab a change of clothes and walk out of my room. I look back and see the peeling wallpaper and the unmade bed. I see the books all over the desk and the broken pencils scattered on the floor. I look out the window and see the moon slowly rise into the night. I make my way to the door. From what I can hear they are gathering up all the Jews to keep us safe during the war. As we slowly follow the two men outside, I see a line of people swallowed up in their own despair. I look up and see the night sky. It's like the blackness has taken over and the stars are going out. We begin the long journey to the train station.
Sweat. Pain. Fear.
The smell of urine.
The first smell of death.
We are now in a train and have been for several hours. It is now light outside and some of us are starting to doubt if we are going to come out of this alive. The rumblings of the train are slowing and I can feel us come to a stop. I hear voices outside. Then the doors open, revealing a blinding white light. "Get out!"
We all rush out hoping that there will be food and water. When I get out I feel the sun burning my skin and feel my tongue scrape against the roof of my mouth. I look around and there is no food or water. My father goes up to one of the guards to ask if he could have some water for everyone. Why did he have to ask? Why did he have to leave me alone? I see a flash of metal and hear a loud bang. I look at the ground and see my father lying there with his eyes open and a look of pure shock on his face. I see the crimson blood stream out of his head. I look over at my mother and see a look of total despair on her face. I walk away without looking toward the rest of my family. Knowing if I look at them I will break down. I can't break down.I have to stay strong for them. Lord, I know you have a plan for my life, but how is this going to help me? I feel like an insect that is slowly fading from Your sight. Please give me strength to get through this.
Lost. Hopeless. Worry.
The sense of fear encases every breath I take.
We arrive at the camp. We are shuffled off and told to begin walking. We are all weak from the long train ride. I know that if I stop walking, I will die. We get to the front gates. As we walk under them, I look up. I see the words, "Work Brings Freedom," and know that these gates will forever bind me in grief. As we near the main building, they start to separate us into groups – male and female. They take all the men to a far off building. They take the women and children to an open courtyard where they start to separate us. My mother and sister are put into another group. They are taken to a field where I can no longer see them. BANG! BANG! BANG! I hear the shots and know that my family is dead. Lord, what am I going to do now?
My whole family is gone. Why have you allowed this to happen? Are you punishing me? Do you not love me anymore? What did I do to deserve this?
Darkness. Stench.
Bodies pressed against each other. Babies crying out.
The smell of death soon fills the room
Death is a curious thing. You live. You work. You make a good life for yourself. What do you do if all you have lived for is gone? Do you try to move on? Do you give up?
What do you do when you have seen your parents shot or when you have watched your sisters burn? Do you take revenge? Do you try to forget? My time is getting closer now. I can feel death at my door. I can see his hand slowly make its way towards me.
We are taken to a room. They say we are going to have a shower. We are told to strip off all of our clothes and wait. I see the shower nozzles. They shut the door behind us. I hear a loud click. We begin to have trouble breathing.
Lord, are you still listening? Are you still here? I'm sorry I blamed you. I know this is the end, but I'm ready to see you face to face. I'm ready to walk hand and hand with you. I'm ready to feel your presence on my face. I'm ready to have your overwhelming peace wash over me. I'm ready to be in your arms.
And they overcame him by the blood of the Lamb, and by the word of their testimony;
and they loved not their lives unto the death.
Revelation 12:11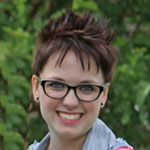 Jessica Burchette , 17 years old, is currently a Senior at Bethany High School in Bethany, Oklahoma. Jessica plans to attend college at either Oral Roberts University or Southwestern Christian University beginning in the Fall 2015, where she plans to pursue an Elementary Education degree.