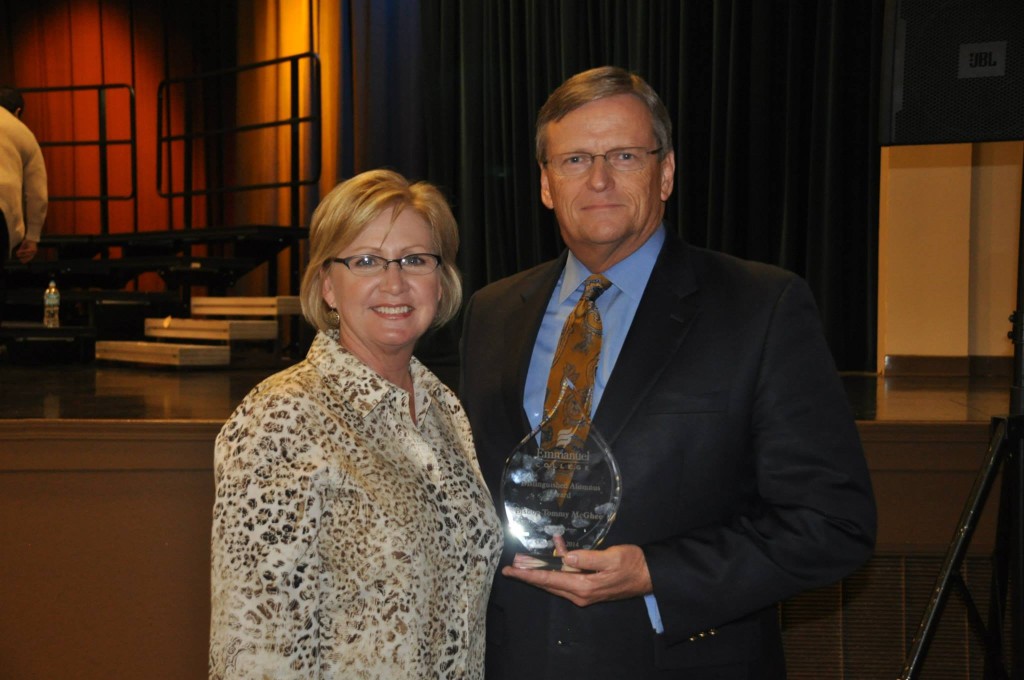 Bishop and Mrs. Tommy McGhee, during the Emmanuel College Feast of Ingathering service. Photo courtesy of Irvina Parker
Bishop Tommy McGhee, was honored with the Distinguished Alumnus Award at the 67th Annual Emmanuel College Feast of Ingathering this past weekend, October 3-5, 2014.
Currently serving as the Executive Director of Discipleship Ministries, Bishop McGhee also serves as the Corporate Treasurer for the International Pentecostal Holiness Church.
Bishop McGhee served as Superintendent of the Cornerstone Conference (Western North Carolina) from June 1994 until July 2012. Prior to being Superintendent, he served as the Evangelism & World Missions Director of the Western North Carolina Conference for six years and as a pastor in the conference for twelve years.  He joined the Western North Carolina Conference while attending Emmanuel College in Franklin Springs, Georgia.  He graduated from Emmanuel College with a B.S. in Religious Studies; and later from Southwestern Christian University Graduate School (Bethany, Oklahoma) with a Master of Ministry Degree in Church Growth & Church Planting.
Bishop McGhee is married to Elizabeth Frye McGhee and they live in Oklahoma City, Oklahoma. They have two grown children – Jennifer (Atlanta, GA) and Jason (Patrick County, VA). Jason and his wife, Mandy, have one daughter, Audrey who is the delight of her grandparents!
Congratulations Bishop Tommy McGhee!