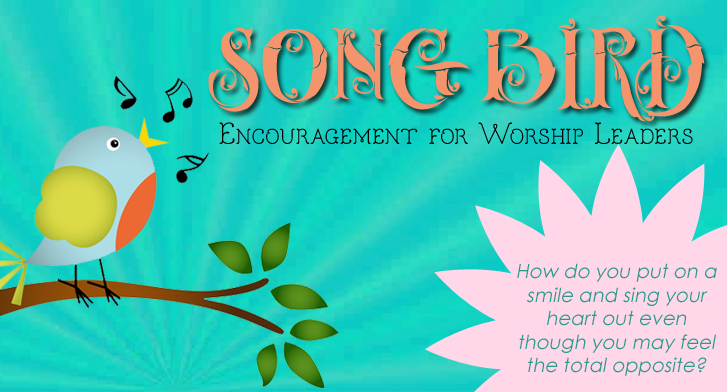 As I sit on the couch drinking my coffee, I notice the cute little song birds on my coffee cup. A cup from a co-worker a couple of Christmases ago. Song birds. Happy. Joyful. Content. Making music from the overflow of their lives. Then it hit me…where is my joy? My song? Do I still sing from the overflow despite my circumstances? Lately, not so much.

What do we, as worship leaders, do when week after week, Sunday after Sunday, goes by requiring us to put on the smile, to sing our hearts out, and to carry on as normal even though we may feel the total opposite. If we are all honest, there are seasons when we don't experience the "joy unspeakable and full of glory" that we so desire our congregation to know. I can remember many Sundays leading worship and thinking simultaneously, "If they only knew what was going on in my heart and head right now… " or "If I could only feel the hope and peace that I am singing about this very moment." I believe that worship leaders and pastors have one of the most difficult callings around for that very reason. Even when we are going through trials and battles, the very nature of our calling requires us to display the peace that we preach and sing about. However, there are times when our faith is greatly put to the test. Those are the times, when we don't "feel" the hope and "see the light at the end of the tunnel", that we simply have to push through with all that we have in us and go by our FAITH ("The substance of things hoped for, the evidence of things not seen", Hebrews 11:1).

I am not discounting the dry seasons of our lives. It has been my experience that when we are tried and tested, then we come out better and stronger. Some of my greatest seasons of anointing have followed my most difficult periods of testing. Often times the fact that I am being tested so much reveals a higher glory is on its way! Thank God! I know that I cannot be the only one who has felt shame, embarrassment and hopelessness as I have led others into the presence of God. Let's deal with those emotions (from the pit of hell, might I add) since we all fall privy to them at some point in our ministry.
 Shame. Proverbs 13:18 says "Poverty and shame shall be to him that refuseth instruction: but he that regardeth reproof shall be honored." When we are covered by the blood of Jesus, then there should be no shame on us as his sons and daughters. He removes our sin and no longer remembers them. The only accuser is the enemy…he is the one who tries to cover us with shame. In Romans 8:1, we are reminded that "there is therefore now no condemnation to them which are in Christ Jesus, who walk not after the flesh, but after the Spirit." So when we are experiencing the emotion of shame, then that is not from the Lord! In the natural, we tend to feel shame when our children have messed up, when we have accidentally offended someone, when we are facing financial difficulties, when a gossiper has told untruths about us, when the list goes on and on. These times are when we must rely on God to help us see with spiritual eyes instead of natural eyes. Principalities and powers of the darkness are our fight…not flesh and blood (Ephesians 6:12). It helps to know who and what we are battling…there is no shame because the battle is the Lord's!

Embarrassment. Why are we embarrassed? Is it pride? Ouch! I have had to soul search and ask myself, "Why do I feel embarrassed? Is my pride hurt? Did the image that people had of me just disintegrate because of my exposed shortcomings or sin or lack of power?" The Word teaches us that "pride comes before a fall" (Proverbs 16:18). Watch this…Proverbs 11:2 says "when pride cometh, then cometh shame: but with the lowly is wisdom." Notice the pattern here. First pride, then shame. Could it be that when we feel embarrassed that we are more concerned with our image with people than with our image with God? We should be so concerned about what God thinks about us that people's opinions of us pale in comparison. I could fill a book with scripture that explains how God views us. Sometimes I have to actually write out the Word of God and put it in my billfold, tape it to my mirror, and set it on my desk at work to remind me the promises of God over my life instead of the lies of the enemy!

Hopelessness. Romans 15:13 declares "Now the God of hope fill you with all joy and peace in believing, that you may abound in hope, through the power of the Holy Ghost." Joy and peace! Isn't that what we want, especially during this time of year? I want to sing with joy again. I want to declare God's promises again. I want to feel hope again. I want to know the plans of God for our future again. God, please stir up the hope within your people once again. Without vision we die! God, remind us of your ways. There is hope in this generation! We are not a people without hope! I speak hope to those who may be reading these words and thinking, "She doesn't know what I am going through right now. Things are bad! No answer in sight. No end to this situation." Lies, all lies of the enemy! We DO have hope in the Lord. I am stirring up my faith even now. I believe that the Joy of the Lord is my strength. "I will greatly rejoice in the Lord, my soul shall be joyful in my God; for he hath clothed me with the garments of salvation, he hath covered me with the robe of righteousness, as a bridegroom decketh himself with ornaments, and as a bride adorneth herself with jewels." (Isaiah 61:10)

I may not see it today, but I believe that my joy will be restored in my life again. I will sing like the song birds, unashamed, not embarrassed and with hope that the anointing on my life will break chains in the lives of people around me. It is time for the called of God to rise up and take our place. When we feel that condemnation, we must remember that condemnation comes from the enemy of our soul. Jesus came to give us life and life more abundantly (John 10:10). When our life and joy has been stolen, killed and destroyed, then we know that those attacks have come from the pit of Hell. So why would we fall prey to those thoughts and emotions? We are human; we all do. For those of you who can relate to the feelings of shame, embarrassment and hopelessness, I want you to know that there is hope! You are not finished. Take a break, gain perspective, read the Word, and cover yourself in His love and peace. Amazing what we can learn from a cup of coffee!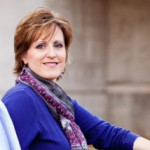 Julie Ely is the worship pastor at Passion Church (www.passionchurch.tv) in Oklahoma City and an Elementary Music teacher in Piedmont, OK. Julie and her husband, Steve Ely, planted Passion Church in 2007. They have two sons, Devin and Tal.