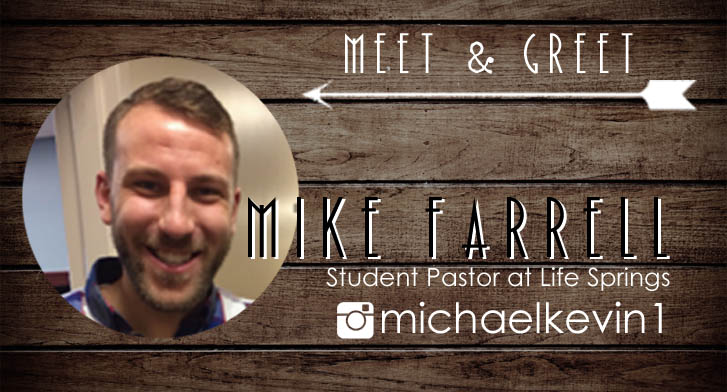 each month the Connect newsletter will feature a youth pastor or leader! click here to see the past Meet and Greet features.
Name: Michael Farrell II

-Position: Student Pastor at Life Springs Worship Center
–Years in Ministry: I have been a part of youth ministry since 2007 my junior year in high school as part of the welcome team. I have been able to be a youth pastor since January of 2011, so a little more than 4 years! I have always loved seeing young people come face to face with the Lord and leave wrecked for God's glory!
–Favorite Book for Youth Ministry: Hands down Radical by David Platt, real, authentic, and raw. No cute stuff just straight honest truth.
–Favorite Candy: No question… Mike & Ikes, tropical goodness!

-Best Advice You ever received: Wow this is a tough one, really tough so I will say two…. 1st from my spiritual father and mentor Darren Hileman, "Life is found in giving your life away. Death in me, is life in others."

And the second I heard from a man named Stephen Chitty, "There is nothing I could do to make God love me less. And there is nothing I can do to make God love me more."

-One thing you would share with everyone that we could pray for: My knee, I have surgery in April to repair some ligaments.

-Tell us how we can get in touch with you!: I have a Facebook! facebook.com/mikecymbrogi but I find that I use it less and less. My instagram name is michaelkevin1 I love instagram! (maybe a little to much haha). Email is pastormike@lswc.com