In Joshua 4:4-7, the Levites have carried the Ark of the Covenant into the middle of the Jordan River. With each step they took, the river opened up that much more. Once they arrived at the center of the riverbed, the waters had completely stopped and the Israelites crossed over. However, before the priests carry the Ark to the opposite shore, Joshua commands one man from each tribe to go to the middle of the riverbed, pick up a stone, and carry it back to shore. With these twelve stones, Joshua commands that a memorial be built so that when future generations ask what those are for, the older generation can explain the wonderful miracle that God performed.
To that end, I want to introduce an idea to you. One of the most sacred days on the Christian calendar is Christmas. However, with each passing year, we seem to focus more and more on the hanging of lights and feasting and the buying of gifts. Sometimes I wonder if we spend enough time remembering why this holiday is so important to us.
That being said, I was recently introduced to The Manger Build. Mike Young, founder of Noble Warriors, began this project many years ago as a way to emphasize the importance of Christmas to his children. Since then, many fathers have begun to build mangers with their children. This year, I am encouraging you to be involved in this program. Create a memorial for your kids so that they will ask, what this is all about.

image via facebook
"Clearly, God's design for the family involves a Godly man walking with Christ personally and leading his family to do the same.
The goal is to see men build life-sized mangers with their children (or someone else's) on a Saturday before Christmas. Then to cheer for those men as they keep Christ in front of Christmas for their families by leading a series of devotional experiences using the manger as a teaching tool." –the mangerbuild.org
Find out more at: www.themangerbuild.org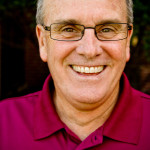 Bill Terry is the National Director for Men's Ministries and the Assistant Director for Discipleship Ministries. Bill resides in Oklahoma City with his lovely wife Rita, where they will celebrate 44 years of marriage in 2015. He is the proud head of an extended family that includes two sons Gregory and Rodney, daughters-in-law Holly and Brec, granddaughters Grace, Annie, Emily and Elena and grandson Adam Gregory.