This Friday marks a holiday that is steeped in Irish tradition. Many symbols have come to be synonymous with the holiday known as St. Patrick's Day. There are leprechauns with tall green hats and their pots of gold at the end of the rainbow. There are three-leaf clovers referred to as shamrocks. There are parades to commemorate the day and there are parties to celebrate. Two of the lesser known symbols, at least for kids, are the harp and the Celtic knot. However, all of these symbols pale in comparison to the story of the person who became known as St. Patrick.
While there are a few discrepancies, history basically tells us the story of a teenager (about 16) who was kidnapped and sold into slavery in Ireland. A Google search of St. Patrick yields a plethora of information. It is sometimes difficult to distinguish between the legend and the truth, but that is not the purpose of this article. Instead, I want to focus on the deeds of the man himself. It is quite apparent that the man he became is highly regarded in Irish culture. Despite the fact that he is known as St. Patrick, he was never actually canonized by Rome.
Imagine if you will, being kidnapped and taken from your home (what would now be Scotland) by pirates. Suddenly, strangers take you away from your family and you become separated by an ocean. Your new master forces you to tend sheep for six long years. You would probably cry out to God for help just as Patrick did. He spent most of his time in prayer. During this time, Patrick acknowledged in his own autobiography (http://www.ccel.org/ccel/patrick/confession.xi.html), that the religion he had ignored as a teen became his foundation for survival. He even had a dream that inspired his escape.
More than 40 years passed, before Patrick made his way back to Ireland as a missionary. Again, it was a dream that called him back. In his confession (mentioned above) lies this quote: "For after chastisement from God, and recognizing him, our way to repay him is to exalt him and confess his wonders before every nation under heaven." And so, in his mid-40s, he made his way back to Ireland to begin God's work of leading a nation to God. While the Irish tend to credit St. Patrick for converting the nation to Christianity, another bishop had arrived a few years before but had not been very successful. The knowledge Patrick gained during his captivity was beneficial. He knew and understood the Irish clan system and he used that knowledge to convert the chiefs first. Their Christian influence would in turn lead their clans to Christ.
Remember the shamrock we discussed earlier? It was chosen as Ireland's national emblem because of the legend that St. Patrick had used it to illustrate the doctrine of the Trinity. St. Patrick died on March 17, 461, and that day is now a national holiday in Ireland.
If you are a parent or grandparent, by all means encourage your children to wear green. Along with that, we encourage you to speak a blessing over your children. Instead of the traditional Irish blessing, I created one with the symbols of the holiday in mind. Feel free to download here and print it. It can help your children focus on the deeper meaning of this day.
Just as St. Patrick obeyed the voice of God to respond to the Great Commission hundreds of years ago, there are devoted Christians from denominations and nations around the world who continue to respond to that same call. The International Pentecostal Holiness Church is privileged to be part of fulfilling that great call. Take the opportunity on a day that honors a well-known missionary to learn about our own IPHC missionaries. In fact, we challenge you to take it a step further and begin to pray for them today. World Missions provides a prayer guide that you can request from them to use with your family. Click here, fill in your mailing information, and then scroll down to the very first item and click to receive the 2017 Link Prayer Guide. For other activities with your kids, check out our Girls' Ministries Pinterest board, "All Things St. Patrick's Day." There are links on history, crafts, and snacks.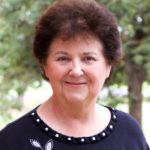 Irvina Parker- iparker@iphc.org
Irvina is serving her fourth term as the director of Girls' Ministries. She and her husband David reside in Oklahoma City where he serves as president of the IPHC Extension Loan Fund. Irvina has been employed at the GMC since 1974 when she began working part time in Women's Ministries while attending college. She graduated from Emmanuel College with her Associates Degree and Southern Nazarene University where she received her Bachelor's Degree in Elementary Education with a concentration in English. Irvina worked in World Missions for about 25 years, some of that part-time while raising their children. During that time, she also served in conference-level leadership of both Women's and Girls' Ministries.
David and Irvina are active members at River of Life PHC where they have attended for more than 40 years and have served in numerous roles and ministries. Their adult children, Ryan and Jennifer, are both married and have provided them with the thrill of being grandparents. Ryan and his wife, Jessica, are parents to Aubrey and Tristan. Jennifer and her husband Shane are parents to Jasper. Irvina enjoys traveling, photography, scrapbooking, stamping, snow skiing, and spending time with all of her family.