Youth Leaders!
Discipleship Ministries Directors!
Pastors and Church Leaders!
Pentecost is nearly approaching! This is a wonderful opportunity to preach and teach about the person and work of the Holy Spirit in the life of the believer!
If you're looking for a free resource to help kickoff the conversation, check out "Thread," a five-week message series developed and written by youth leaders from all over the IPHC. It's available for free download here, along with this ebook written and created by Max Barroso, Madeline Lafferty, and our own SMAT member Kaleigh Bishop!
It's not too late to get started! In fact, if you begin the series on May 7th, you'll finish the series on Pentecost Sunday, June 4th. Let's make sure our teens recognize the Person, Presence, and Power of the Holy Spirit!
-Stephen Jones, Student Ministries Team Leader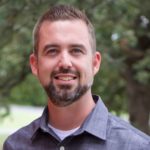 Rev. Stephen Jones currently serves as the Pastor of Student Ministries at Whitnel Pentecostal Holiness Church in Lenoir, NC. In 2002, Stephen earned a Bachelor's of Arts degree in Christian Ministries from Emmanuel College in Franklin Springs, GA. In 2008, he completed a Master's of Divinity degree from Gordon-Conwell Theological Seminary in Charlotte, NC. Since 2002, Stephen's full-time ministry to teenagers has spanned two IPHC Conferences, three IPHC churches, and numerous IPHC summer camps.