Perhaps you have noticed that things all around us are changing. Depending on how long you've been alive, I am sure you have taken note of just how much the world in which we live has changed since your childhood. Some things have changed for the better and some things have changed for the worse. Whether it's the seasons of life, the seasons of leadership, or the seasons of the year, change is an inevitable part of our lives.
I recently visited my deceased mother's only living sibling in West Virginia the other day. He is 93 years old and full of stories of the family. Many of them were stark reminders of just how much things have changed. The drive past my grandmother's house drove the point home even more. The memories that were etched in my mind from 414 Thorn Street in Princeton were a far cry from the house that is now home to a business. One of my great memories is of the old radio encased in a beautiful wooden case that stood five to six feet tall. Outside of the "party line" phone, that radio was the only connection in that house to the outside world. Today, we have computers, laptops, tablets, cell phones (aka cameras), smart televisions; we have connections around every corner!
That connectivity can be a powerful thing when I want something delivered to my front door quickly. It can be great when I want a picture of my grandmother's house as it stands now. But that same technology can be a roadblock to my spiritual growth. It can become detrimental if I allow myself to get caught up in all the traps and apps it has to offer. Our children are especially vulnerable to the dangers of a never-ending connection opportunity. Check out the Social Butterflies pages for some sobering statistics on some of those repercussions of change.
If we allow ourselves, we can easily get caught up in all the ugliness around us. I am reminded of Daniel when he learned that he and his friends were going to be killed because none of the magicians could tell Nebuchadnezzar what he had dreamed or what it meant. Daniel and his three friends prayed earnestly. In answer to their prayers, God revealed the dream and its interpretation to Daniel. In verses 20-22 of chapter 2, Daniel declares this praise to God: "Praise be to the name of God for ever and ever; wisdom and power are his. He changes times and seasons; he deposes kings and raises up others. He gives wisdom to the wise and knowledge to the discerning. He reveals deep and hidden things; he knows what lies in darkness, and light dwells with him. I thank and praise you, God of my ancestors: You have given me wisdom and power, you have made known to me what we asked of you; you have made known to us the dream of the king."
Wow! Did you catch some of those declarations in light of our current situations? "He changes times and seasons; he deposes kings and raises up others." He will reveal "deep and hidden things." A death sentence moved Daniel to prayer. Prayer moved God to reveal understanding and light. God's revelation moved a king to see Him as the true God. Prayer is the key to overcoming the evils of this world. Prayer is the key for the safety of our children (and grandchildren) in the midst of chaotic connectivity. Speak life to your children through blessings. Create open lines of communication with them.
Just as the seasons of time change, so do the seasons themselves! Summer is gone and Fall is here. Leaves are beginning to change colors and provide a vivid display of God's artistry. Eventually, however, even those leaves will begin to fall away and strip the trees to empty branches. When you look at those bare branches, you must remember that they are only bare for a season. They hold the promise of new life. As we journey through these next few months, take the opportunities to give freely and to give thanks for all that He has given to us. Ask God to reveal the mysteries of girls in your church or community who might need a mentor who can help rewrite their stories. In everything you do, declare that it a season of prayer!
Photo Credit: Laban West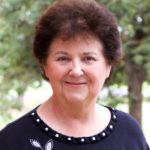 Authored by Irvina Parker
Irvina is serving her fourth term as the director of Girls' Ministries. She and her husband David reside in Oklahoma City where he serves as president of the IPHC Extension Loan Fund. Irvina has been employed at the GMC since 1974 when she began working part time in Women's Ministries while attending college. She graduated from Emmanuel College with her Associates Degree and Southern Nazarene University where she received her Bachelor's Degree in Elementary Education with a concentration in English. Irvina worked in World Missions for about 25 years, some of that part-time while raising their children. During that time, she also served in conference-level leadership of both Women's and Girls' Ministries.
David and Irvina are active members at River of Life PHC where they have attended for more than 40 years and have served in numerous roles and ministries. Their adult children, Ryan and Jennifer, are both married and have provided them with the thrill of being grandparents. Ryan and his wife, Jessica, are parents to Aubrey and Tristan. Jennifer and her husband Shane are parents to Jasper. Irvina enjoys traveling, photography, scrapbooking, stamping, snow skiing, and spending time with all of her family.