by W. A. Mills, Jr., Men's Ministries Director
Thirteen years ago, Men's Ministries and Boys' Ministries started building a ministry partnership called Bridging Our Ministries, recognized by many as BOM.  On January 25-27, 2019 more than one hundred leaders from across the church gathered at the Hilton Resort in Myrtle Beach, SC. The weekend was filled with excellent training, inspiring worship, great preaching, wonderful fellowship, renewing friendships and great food.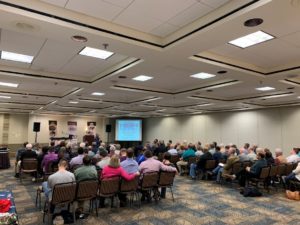 Through the years, BOM has been visited by various denominational leaders desiring to see our model for the Men's and Boy's Ministries partnership. For several years running, the North Carolina Assembly of God Royal Rangers district leadership team have supported BOM. Led by district director Brady Allen, he and his team look forward to our annual gathering. Brady had a good number of leaders in attendance this year.
Leaders of men and boys gathered to celebrate the victories of the past while embracing the promise of a powerful future. In addition to planning meetings, there were also training sessions that focused on "Building Bridges" generationally, culturally, and internationally. During the Friday night worship service, appreciation was expressed to Bill Terry for his twelve-year tenure as IPHC Men's Ministries Director. W. A. Mills was officially installed as the new IPHC Men's Ministries Director, along with Matthew Brown as a new Men's Ministries Board Member. Bill Terry then brought a powerful message from Joshua 24:15, challenging us with the statement of a leader, decision maker, and visionary to step up and seize the moment, leading, making decisions, and casting a vision that is plain for those who read it, that they may run with it.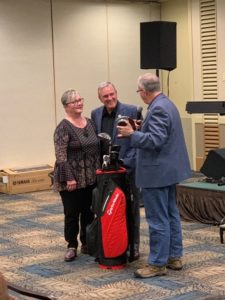 Saturday's plenary sessions accentuated the IPHC Core Value emphasis for 2019, "We Prayerfully Value Justice".  Pastor Kent Bell of Bethel Life Church in Greenville, PA shared about three outreach ministries of the church he pastors:  Project Restore– offers long-term aftercare to victims of human trafficking through a shelter called Lyndsey's Place, Loving Hands Ministry– a respite service provided once a month for 3 hours for families who have children with special physical, intellectual,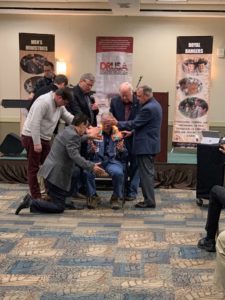 behavioral or emotional needs and Night to Shine– sponsored by the Tim Tebow Foundation, a prom night for people with special needs ages 14+.  There was not a dry eye in the room as Pastor Kent shared his passion to right the injustices against these precious people created in the image and likeness of God.  Bishop Tommy McGhee brought a powerful message from Ephesians 6 about "Waging Spiritual Warfare" and how to win on the battlefield of your life, exhorting us to acknowledge our adversary, appropriate our armor, and advance our Lord's agenda.
Greg Terry, founder of Bridge Builders International Ministries from Greenville, PA, is a fixture at BOM. His ability to lead effective worship and prepare hearts for the ministry of the word is deeply appreciated by the BOM attendees. Thanks, Greg, for a job well done!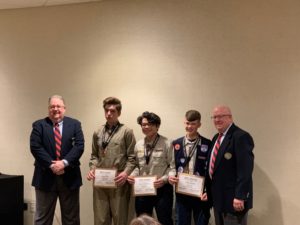 Bridging Our Ministries also provides a platform for the Ranger of the Year recipients and competition. On Saturday night following the banquet, the Ranger of the Year winners were announced, honored, and received their awards. The Adventure Ranger of the Year was presented to the following young men, all from the North Carolina Conference: first place – Alex Parnell, second place – Jose Valdiviezo, and third place – Jonas Hill.
Conference Directors of Men and Boys were recognized and honored, thanking them as leaders for their passionate commitment to boys' and men's discipleship. Two prestigious awards presented annually were announced. The Bill Linn Leadership Award from Royal Rangers was presented to Phillip Pearson from the NC Conference. The Jack T.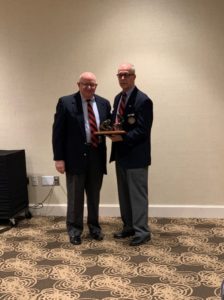 Kelley Leadership Award from Men's Ministries was presented to Bill Terry in acknowledgment of his passionate commitment to the discipleship of men, having served for 12 years as the IPHC Director of Men's Ministries, from 2006 – 2018.  Both recipients were very worthy of deserving honor before their fellow peers.
Last year, Boys' Ministries added a new award known as the Leonard Atkins Lifetime Achievement Award.  This year it was presented to Pastor Larry Jones of the South Carolina Conference for his many years of service to the boys of the IPHC.  Men's Ministries added a similar award this year, the Bill S. Wellons, Sr. Lifetime Achievement Award presented to Col. Jack T. Kelley for his twenty years of leadership as the IPHC Men's Ministries Director, from 1985 – 2005.  Jack, age 81, was accompanied by his son Shawn.  It was a high and holy moment for Jack as he continues in his old age to impart wisdom and creative energy to the challenge laid before us in the discipleship of men and boys.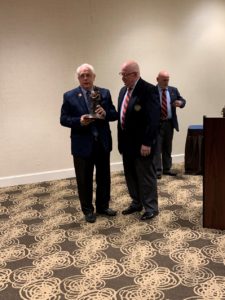 Mrs. Carol Moore led a crafts session and devotional time for the more than 30 women in attendance at this year's BOM.  Carol also ministered in song in the Sunday morning chapel service, setting the stage for the preaching of God's Word by Pastor Joe Sanchez of the Healing Place Worship Center in Brighton, Colorado.  Joe reminded us of the importance and necessity of being a Christ-centric, Spirit-empowered church.  It was one of the best chapel services in recent memory.
Bridging Our Ministries is about equipping leaders for discipleship ministry. Without the support of leaders from the local churches, conference and general level, BOM would cease to exist like a ship without a rudder. This year platinum level sponsors, contributing a financial gift of $500.00, helped us to offer a quality weekend to our leaders. Platinum level sponsors included Advantage College, Discipleship Ministries, DRUSA, and the Extension Loan Fund.  On behalf of Commander David Moore and myself, thank you for your faithfulness, commitment and support for Boys' and Men's Ministries. God bless you!