IPHC MEN'S MINISTRIES HONORS BILL TERRY
by W. A. Mills, Jr., Men's Ministries Director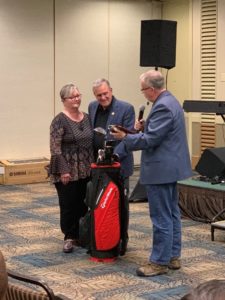 During the Friday night worship service, on January 25, 2019, in Myrtle Beach, SC, at the annual Bridging Our Ministries Discipleship Conference for Men and Boys, Men's Ministries expressed appreciation to Rev. Bill C. Terry for his twelve-year tenure as IPHC Men's Ministries Director, having served from January 1, 2006 – June 30, 2018.  Bill built upon the foundation laid by his predecessors, Jack T. Kelley, Sr., Lt. Col, Army (RET) 1989 – 2005, and William S. "Bill" Wellons, Sr. 1982 – 1989. Bill expanded the influence and impact of Men's Ministries not only throughout the IPHC family but outside our own denomination, having served in several capacities with parachurch men's discipleship ministries, such as NCMM, the National Coalition of Ministries to Men, and DMML, Denominational Men's Ministry Leaders.
Bill was the first Men's Ministries Director in the history of the IPHC to relocate to Oklahoma City, establishing an office and ministry presence at the Global Ministry Center, positioning himself centrally in the USA, making himself readily accessible to conference Men's Ministries directors throughout the nation.  During Bill's tenure, he built a strong coalition with the Hispanic community, networking with and utilizing the leadership giftings of Hispanic pastors and leaders to create a spirit of cooperation and inclusion in the quest for men's discipleship.  Seeing the value of bringing millennials to the table at the highest level of leadership, Bill appointed two millennial men to serve on the General Men's Ministries Board, welcoming their insights into reaching the younger men of the IPHC.  Bill's passion for the discipleship of men, at home and abroad, opened doors for him internationally, where annually, for many years, he made trips overseas to train and empower national leaders in the mobilization of men, as passionate devoted followers of Christ.
Being a husband, father, and grandfather himself, Bill understood the importance of equipping men to be leaders in their homes and families. Therefore, he became a prolific reader of men's discipleship resources, promoting and passing along to the men he led those resources that explained practically the biblical principles of authentic manhood.  Recognizing the importance and biblical priority of succession planning, Bill prayerfully sought the Lord for a successor, providing input to the Executive Director of Discipleship Ministries in the selection process, ensuring a seamless transition and passing of the mantle at the time of his retirement.
Several conferences on the East Coast came together to surprise Bill with a brand-new set of golf clubs.  They had originally planned to present them to him at the East Coast Empowerment Conference in Falcon last September which was rescheduled due to Hurricane Florence.  The conference Men's Ministries directors from NC – Danny Harris, Cornerstone (WNC) – Marion Poythress,  SC – Cory Baldwin, and Spirit Life Ministries representative (Upper SC) – Bob Russo, presented Bill with this really nice gift as an expression of their gratitude for his ministry to men.  IPHC Men's Ministries Director, W. A. Mills, Jr. presented Bill and his wife, Rita, with an impressive mantel clock, with his name and years of tenure engraved on a gold plate.  Bill's life verse was also engraved on the clock, Ephesians 2:10 (NKJV), "For we are His workmanship, created in Christ Jesus for good works, which God prepared beforehand that we should walk in them."1
Bill continues to walk in the good works that the Father has before ordained for him.  He is the President of Advantage College, an IPHC institution whose mission is "to train and equip 21st century leaders to fulfill the great commission."2  Bill continues to serve as the Coordinator of Disaster Relief USA.  In this role, he manages mass care feeding kitchens and trains volunteers for deployment during times of major disasters.  Bill holds a Master of Ministry degree from Southwestern Christian University in Bethany, Oklahoma.  During Bill's 47 years of active ministry in the IPHC, he has served in numerous capacities, including pastor for 32 years, church planter, conference superintendent, general men's ministries director, national DRUSA coordinator, and numerous roles for Advantage College.
Men's Ministries Director, W. A. Mills, presented Bill with the prestigious Jack T. Kelley Leadership Award on Saturday evening, January 26, 2019, at the Director's Banquet in acknowledgment of his faithfulness, commitment, and passion for the discipleship of men.  Bill established this award in his first year as men's ministries director, recognizing men annually who have demonstrated the spirit of Jack T. Kelley, Mr. Men's Ministries, in the quest for authentic manhood that is contagious to other men in alignment with the 2 Timothy 2:2 model of discipleship.
Bill and his lovely wife, Rita, now make their home in Greenville, PA.  They have been married 47 years.  They have two sons, Greg and Rodney, daughters-in-law Holly and Brec, and six grandchildren.  Bishop Tommy McGhee, Executive Director of Discipleship Ministries, said it best when he remarked, "Bill will forever be known for his words, 'Listen here.'"  Bill, we are listening, knowing the best is yet to come!
1The Bible, New King James Version, Thomas Nelson, 1982.
2Advantage College, https://www.advantagecollege.org/about-us/board-of-regents/rev-bill-terry/.  Accessed 5 Feb. 2019.
Pictures by Andi Ingram, Adult Ministries Administrative Assistant