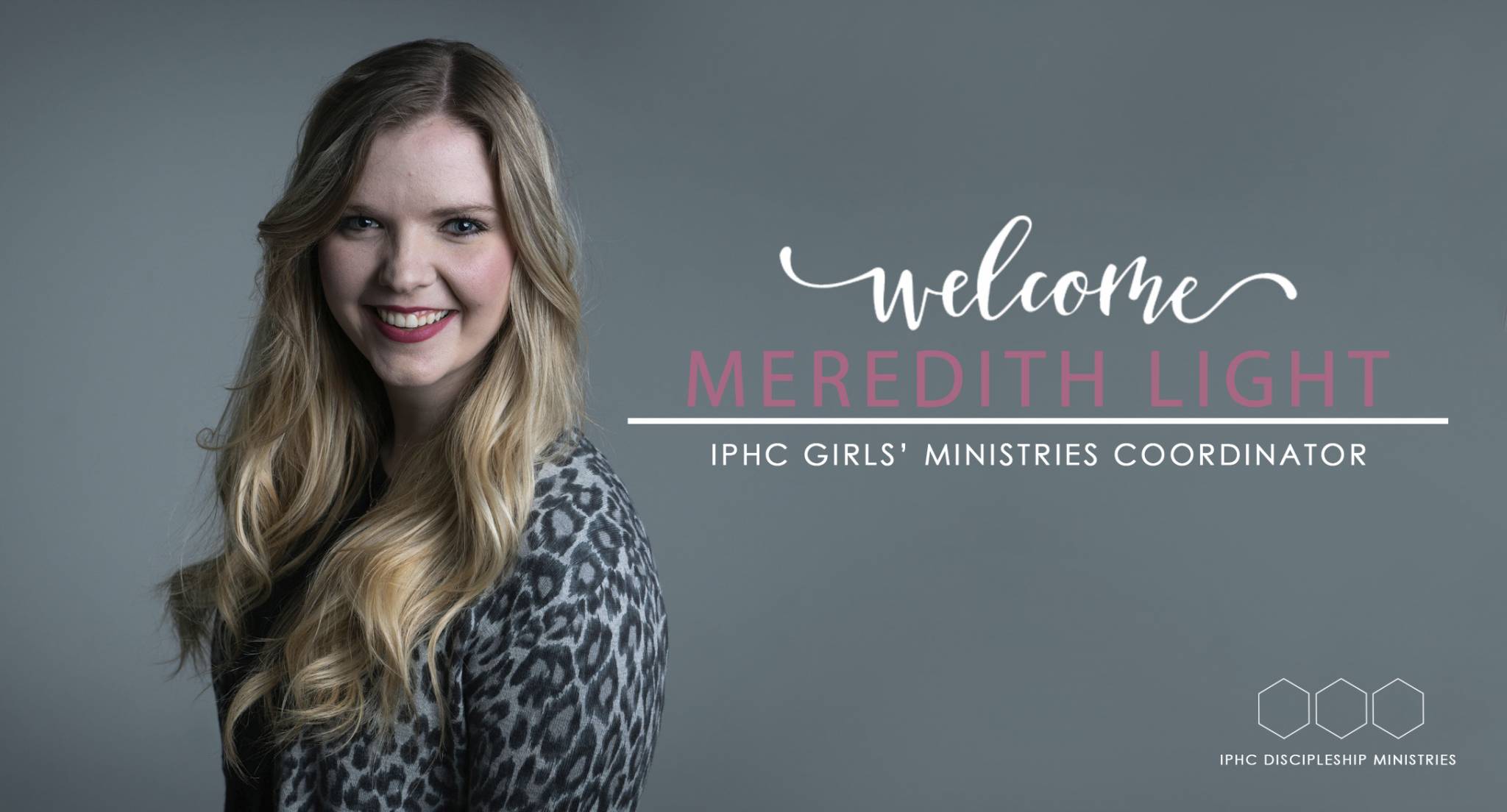 Bishop Tommy McGhee and Discipleship Ministries are pleased to announce Meredith Light as the new Coordinator of IPHC Girls' Ministries.
Following the remarkable 18-year ministry of Irvina Parker as Director, Girls' Ministries is moving into a new season.
Kristi Cain, National Director of IPHC Kids' Ministries, had this to say: "We are thrilled to have Meredith serve as our new Girls' Ministries leader. She brings creativity, energy, experience, and calling to this role. As the national coordinator, Meredith will continue to lead our mPact, Friends, and Girls Only Clubs. Supporting the women and girls of this community will remain one of her primary responsibilities. Additionally, Meredith is passionate about seeing all churches do gender-specific ministry. Thus, she will be working to resource, inspire, and equip congregations who want a girls' program, but have found that our traditional club approach isn't right for them. We can't wait to see what is ahead for this ministry!
Bishop Tommy McGhee noted, "Meredith brings so much passion and creativity to her work and connects extremely well with girls of all ages. She will provide support and training for Girls' Ministries as well as bringing new and exciting resources for use in the local church.
Meredith is no stranger to Discipleship Ministries. She has served in the office since 2016. Meredith also loves serving in her local church where she has been the Children's Pastor, the Creative Pastor, and currently serves on the worship team.
Meredith was born and raised in Southwest Kansas, and she is a 2017 graduate of Southwestern Christian University. She loves spending time with her family, making others laugh, and collecting random miniature things.
Meredith was called to ministry at Power Chicks in 2015 while serving as part of the Worship Band. She has a deep love for Girls' Ministries.
"I am honored to have the opportunity to serve alongside women who are dedicated to girls' discipleship. I believe that gender-specific girls' ministry is vital in our culture, as there are millions of girls who are listening to and accepting what social media and the world say about them. It is our responsibility to combat those lies with God's strength and truth. This comes through providing a safe place for girls to talk about their fears and hurts, while also celebrating their joys and victories. Strong, genuine relationships with Christlike women are the foundation of raising godly girls. I look forward to working with you as we continue building community through intentional, committed discipleship to girls." – Meredith Light