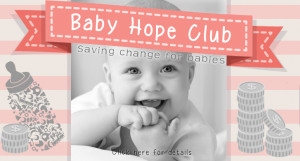 BABY HOPE CLUB exists because every baby deserves the hope of tomorrow. This outreach, sponsored by Girls' Ministries, helps babies born to young women living in the International Pentecostal Holiness Church (IPHC) Royal Home. The Baby Hope Club funds are given to the Royal Home to purchase things for the babies like diapers, formula, bottles, toys, etc. God's Word confirms that every baby deserves the hope of tomorrow: "For I know the plans I have for you, declares the Lord, plans to prosper you and not to harm you, plans to give you hope and a future," Jeremiah 29:11 NIV. Please consider participating in Baby Hope Club.
HOW DOES BABY HOPE CLUB WORK? Baby Hope Club is promoted by Girls' Ministries leadership. In the early stages of Baby Hope Club, baby shoe banks were purchased through the IPHC General Girls' Ministries. Baby bottles are a better collection device. As banks are filled, money is forwarded on a quarterly basis to Royal Home! You can create your own banks and have everyone collecting money for this tremendous need.
HOW CAN I GET MY OWN BANK? If your church happens to still have some of the baby banks around, feel free to use those. If not, we implemented an alternative idea which allows you to purchase baby bottles. Click here to download the Baby Hope Club labels and instructions. This can be printed onto a page of 2" x 4" mailing labels (10 per page). This ministry is worthy of our support, so please consider implementing it in your church.
Contributions can be sent to: IPHC Ministries - Baby Hope Club #02116P PO Box 270420 Oklahoma City OK 73137
If you have any questions, contact your local Girls' Ministries coordinator, conference Girls' Ministries director, or the IPHC Girls' Ministries at girls@iphc.org or call 405-792-7134.
SANCTITY OF HUMAN LIFE (SOHL) WEEK falls in January around the landmark date of Roe vs. Wade. This is a great time to highlight Baby Hope Club and how it benefits the unborn children of the IPHC Royal Home. For more information and resources on Sanctity of Human Life Week, visit.