Ride for LIFE, 50CC Diaper Run, 2017 started this year in Fresno, CA at the Church of Living Water, Pastor Anthony Holmes and the Pac West Network Ministries; Bishop Stan Reynolds; Assistant Bishop, Susan Bagley and the Conference Women's Ministry Leader, Nicole Hammond were all present and participated in the rally.
A Taco Truck meal kicked the evening off, fantastic tacos were eaten to our heart's content. A special time of fellowship was enjoyed. It was very rewarding to spend time with our retired Bishop Roger Halvorson and wife, Lenny.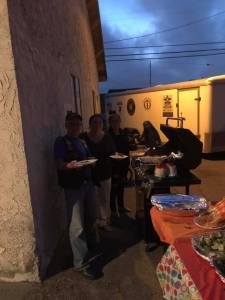 We gathered in the church and were blessed by COLW Worship Team's ministry and an inspiring Word on the God's value of Life by Bishop Reynolds.
Gary Burd, National M25 Director then shared the Conviction that drives men to cross the nation, two times, at their own cost and risk of life. The convictions are based first on the insult to God, saying He made a mistake for this Child's conception. Our first and foremost conviction is found in 1 Sam 17:45 "….the God…whom you have defiled". We must stand against abortion in a positive way because of the way our God is being looked upon. The other convictions are babies live's must be saved and we do not want to see the young lady and man live a life with regrets.
Why 50 hours?
This is using a worldly proving ground, Iron Butt Association patch to "prove" that the rider is a mentally and physically tough individual. We use this platform to radically say, 'we believe in life'.
Why motorcycles?
David was given Saul's armor to fight the fight, however, David said, 'these are not proven and don't fit'. We use our tools, or our weapons called motorcycles. We use what has proven to make a statement. Just watch, when a motorcycle 'roars' into a station or a restaurant how much attention is given.
Finally, we have learned to shake the criticisms and belittling comments that we are not so smart. Just as a ruddy little guy took a 'stick and sling', we have just found a way to stand against our God's wisdom and ways being defiled. We ride believing the 'Goliath' of these young girls will fall, if only one girl, one young man, one baby will be saved, if only a few will see the insult people are making about our God, it will be worth it all.
We had one great send off, a check for $4000, 6,000 diapers and 6,000 baby wipes presented. Wow, that was great but then there was the blowing of the shofar, waving of green start flags and whistles blowing to send us off.
The next night we had the privilege of a Life Rally hosted by Christian Heritage Church in Lawndale, CA, Bishop Tom Murray; Assistant Superintendent Bill Kenedy; M25 Pointman Bill Woods; Conference Secretary and Treasure, Paula Rains and Conference Women's Director Hislena Servin all present. When you see a large percentage of the Conference Council present it speaks so much to the unity of the team. We were blessed with over 13,000 diapers and $350 in check. To conclude we enjoyed another great 'Taco Truck'.
As I pen this report, we are preparing for our trip across the nation in less than 50 hours. Our team will catch about 2 hours sleep on the grass in a roadside park just outside Abilene and then continue our ride.
Due to the hurricanes, we have altered our route and will continue to adjust due to the roads and lack of available fuel. Our response of diapers, baby wipes, and funds are going to be affected by the storms but we are committed to making this a successful year in spite of it all.
By: Megan Alba