Rev. George Cashwell, a native of Roseboro, North Carolina, passed into his eternal home Monday, January 30, 2017.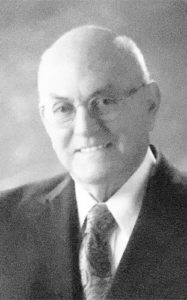 Brother Cashwell attended Holmes College of the Bible from 1951-1956. After marrying a Pentecostal Holiness girl, Ella Gaylord, from Charleston, South Carolina, he became a member of the Pentecostal Holiness Church. He pastored the North Charleston Church for three years and in 1978 accepted the challenge of the Mississippi Conference. During his tenure as superintendent, the conference experienced significant growth.
Rev. Cashwell also pastored churches in Laurinburg, North Carolina; Aiken, South Carolina; Socastee, South Carolina; Johnsonville, South Carolina; Holy Hill, South Carolina; Bamberg, South Carolina; and the Highway Pentecostal Holiness Church in Elgin, South Carolina. He also served on the General Board of Administration for the Pentecostal Holiness Church.
Rev. Cashwell is survived by his wife, Ella Mae; children, Philip Cashwell (Sylvia) of Elgin, South Carolina; Charles Cashwell (Rebecca) of Atlanta, Georgia; Karen McClain (James) of Elgin, South Carolina; James Cashwell (Catherine) of Chattanooga, Tennessee; one brother, two sisters, seven grandchildren, three step-grandchildren and six great-grandchildren.
Services for Brother Cashwell will be held Sunday, February 5, 2017, at 3:00 p.m. at Highway Pentecostal Holiness Church. For more information, please visit Powers Funeral Home.