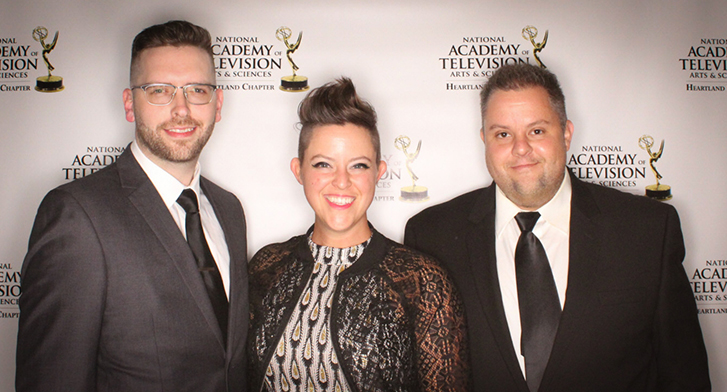 The Tramels and Lights Shine at the Heartland Chapter Emmys
On Saturday, July 15, 2017, the Heartland Chapter of the National Academy of Television Arts and Sciences hosted its Emmy award ceremony at the Oklahoma History Center in Oklahoma City. Several members of the IPHC family were among the honorees for this special event.
Clayton Tramel, son of Dr. Terry and Beckie Tramel, received the Emmy for Program Craft: Director for his film, "Tell Me a Story: The Life of J.L. Tramel." This full feature film tells the story of Tramel's grandfather who was a Pentecostal Holiness pastor in Purcell, Oklahoma. Clay says, "It's a really cool award to win, but even more so when it's your first feature that's about your Grandpa." Tramel went on to thank the cast and crew, "For everyone who was involved, please know how grateful I am and I hope you all realize how much we are all sharing this award." Steffan and Tara (Tramel) Light wrote the score for this inspiring story.
The Program Promo – Sports award was given to "The Roar Continues," Train Media Group (Clayton Tramel, Producer/Writer; Samuel Calvin, Cinematographer; Rob Derrick, Supervising Sound Editor; and Steffan Light, Producer). This promo portrayed how Oklahomans and Oklahoma City Thunder fans felt after Kevin Durant signed with the Golden State Warriors until Russell Westbrook re-signed with the Thunder a month later. Light, who serves as the video production manager for the IPHC, stated, "This was a fun project to work on, and I am extremely excited to have won an award for it. Thanks to everyone for their support."
Janese Bennett, IPHC Communications Director, commented, "The IPHC has been blessed with many talented individuals. We are very proud that Clayton, Tara, and Steffan have been able to share their gifts with a broader stage and have received such a special honor for their excellence."
Photo Credits: courtesy Steffan Light