By Garry Bryant
It was my privilege to participate in the Ephesians 4 Network (E4N) Reset Camp Meeting, July 11–14 in London, Ohio. This is an annual event and involves a variety of options and ministry opportunities including evening celebration services, youth camp activities, and day training events. On Friday, July 13, Pastor Josh Hannah held a church revitalization training session. The Friday evening service focused on the call to prayer and a need to return to the altar.  There was an environment of powerful worship and strong receptivity to the Word.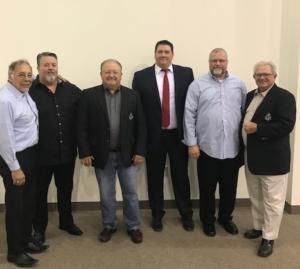 During the Quadrennial Conference on Saturday, July 14, the E4N family came together to conduct the required business and to move into their preferred future. "We Prayerfully Value all Generations" was emphasized and the ARISE 2033 mandate was presented and well received.
Bishop Brad Reynolds presented a challenging State of the Conference Report emphasizing the week's theme of Reset. He also recognized the conference council for their service over the past four years, with a special emphasis given to Pastor Mike Brewer's 39 years of conference leadership. Bro. Brewer has been a beacon of strength, perseverance, faithfulness and longevity.  He reported that he is presently experiencing his most fruitful ministry at the young age of 72.
Bishop Reynolds celebrated the success of youth camp as well as the strong and growing participation of the youth. There is a commitment to expanding the leadership base of E4N, thus increasing their capacity and potential for greater ministry growth. The motto of the conference was highlighted "Together We Can Do More," and was used as a charge and a challenge.
The conference selected the following to serve as the Executive Council:
| | |
| --- | --- |
| Superintendent | Brad Reynolds |
| Assistant Superintendent | Butch Deer |
| Secretary/Council Member | Gene Kennett |
| Treasurer/Council Member | Matthew Yates |
| Council Member | Macario Bernal |
| Council Member | Steve Hickerson (not pictured) |
| Council Member | Rob Clegg |
The following special guests were present at the conference:
| | |
| --- | --- |
| Rev. John Hannah | Director of Revitalization\Multiplication, EVUSA |
| Pastor John Leggett | Thursday evening speaker |
| Bishop Dale and Debbie Adams | River of Life Ministries |
| Rev. Rob Clegg | EVUSA council member |
| Rev. Macario Bernal | INCaM board member |
Ephesians 4 Network experienced a quality time during their 2018 camp meeting.  It is my prayerful anticipation to see this conference move forward aggressively into increased harvest and multiplication.