IPHC Clergy Development is excited to announce a new resource for pastors and leaders featuring the personal journey of Bishop Ray and Alison Boggs. After losing both of their spouses, Ray and Alison experienced immense grief followed by the recovering grace of God that has brought to them together.
This video documentary produced by IPHC Communications is an excellent resource for personal growth or use in a small group setting. Available as a full-length feature or in seven shorter segments with accompanying study questions, we hope this series will be a blessing for those walking through difficult circumstances and dealing with grief: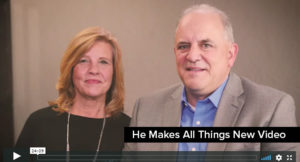 Part 1: I Have Grace Waiting
Part 2: Grief Comes in Waves
Part 3: Just in the Nick of Time
Part 4: Well Worth Every Dollar
Part 5: A Season for All Things
Part 6: A Second Journey
Part 7: A Prayer for Others
This and other Clergy Development resources are available on the Clergy Development website.
By: Dr. Lou Shirey, director of Clergy Development