As hurricanes Florence and Michael ravaged the southeastern United States, several IPHC congregations and families in North and South Carolina and Florida sustained damage to their homes and properties. In typical fashion, Disaster Relief USA (DRUSA), led by Rev. Bill Terry, immediately mobilized relief teams and supplies to assist first responders and storm victims. The Mobile Feeding Kitchens deployed to Lake City, South Carolina, and New Bern, North Carolina, along with the Cornerstone Conference Shower Trailer. Gospel Tabernacle Church, in Dunn, North Carolina, served as the distribution center for commodities donated by IPHC churches and ministries.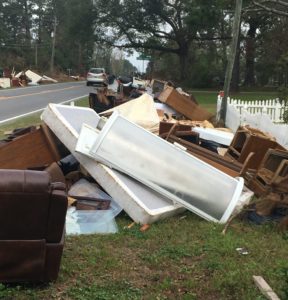 Throughout the next two weeks, teams served 26,000 meals in North and South Carolina. Bill Terry shared his gratitude for the volunteers who assisted, "I want to express my personal appreciation to the teams, volunteers, pastors, churches, and contributors for the deployments and demanding work."
Once the waters receded and families began to return to their homes, the North Carolina Conference found 16 churches with structural damage and 33 church families who lost their homes or suffered varying degrees of damage. The Dillion P. H. Church in Dillon, South Carolina, also flooded.
Retired IPHC pastors, Jerry and Teresa Green, were forced to evacuate their home in Castle Hayne, North Carolina, due to flash flooding. Ultimately, the floodwaters reached 5 feet, causing extensive damage to their house and vehicles, as well as the loss of most of their belongings. After visiting her parents' home, IPHC Missionary Summer Sneed shared, "It was not easy to stand in my childhood home today. It was heartbreaking to see almost everything inside ruined, shifted, and misplaced by the floodwaters and smelling terrible." With assistance from the North Carolina Conference, Mission M:25, insurance, FEMA, and others, the Greens are beginning to recover; although they have a long road ahead of them.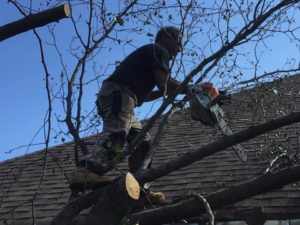 When Hurricane Michael hit the Florida panhandle, relief teams were quickly called back into action and set up the Mobile Feeding Kitchen at the Bristol Pentecostal Holiness Church, in Bristol, Florida, where 10,000 meals were served. Winds and rain from Hurricane Michael damaged 13 IPHC churches in SonShine Network Ministries, most of which suffered extensive roof and water damage. The Panama City area was hit the hardest, with three churches receiving considerable damage to the church and pastor's home.
Rachel King, secretary/treasurer for SonShine Network Ministries, says, "We are currently asking other churches to 'adopt' a church in the damaged area. We are asking them to pray for that church, send letters to the congregation, send teams to help, and funds if possible. We are hoping that through this hardship, they will connect in a greater way."
Men's Ministries director, W. A. Mills, has organized Men in Action teams to assist conferences, churches, and families with clean up and recovery. Mission M:25 under the direction of Gary Burd and Mark Richardson is also coordinating teams to assist families and churches as they rebuild. This week, a team is working in Wilmington, North Carolina, with the Trenton P. H. Church and families who are still recovering. You can join these recovery efforts by donating to Disaster Relief USA or by contacting Mark Richardson or W. A. Mills to be a part of a recovery team.
UPDATE: As of November 4, 2018, Bishop Danny Nelson, superintendent of the North Carolina Conference, confirmed that "We had 19 churches which suffered significant loss and 66 church families which suffered the loss of their homes." Please keep these families in your prayers.
photos courtesy of: IPHC Ministries