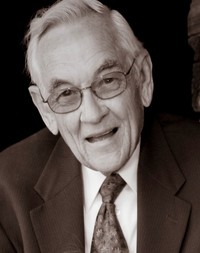 The IPHC family is in prayer for the family and friends of the late Rev. Glennard Quesenberry. Rev. Quesenberry served in the Appalachian Conference as superintendent, treasurer, pastor, and leader in various other ministry assignments. IPHC Presiding Bishop Doug Beacham stated, "I was always blessed to be with Glennard and his dear wife Dot. I was with them recently and Glennard's passion to see people saved and churches grow was as strong as ever. The IPHC family is grateful for his dedicated service to Christ and our movement."
Rev. Roy Glennard Quesenberry, 91, of Blacksburg, went to be with the Lord on Monday, January 20, 2020. He was a minister of the International Pentecostal Holiness Church. He was born in Radford, Va. on February 28, 1928, attended Radford City Schools and graduated from Holmes Bible College in 1951. He was licensed by the IHPC in 1948 and ordained in 1951. He served as pastor of French's Chapel, Shady Springs (WVa.), Lynchburg, Christiansburg, Salem, and Radford. He also served as interim pastor at Vicker, Bakers Chapel, Merrimac, Bain's Chapel and Tower of Refuge. He served as the conference Lifeliners Director, Mission and Evangelism Director, Conference Treasurer and Superintendent. He also served on the IPHC Evangelism Board, Emmanuel College Board of Trustees and Holmes Bible College Board of Trustees.
He was preceded in death by his parents, Rev. Roy Pierce and Eula Rupe Quesenberry; two of the greatest people ever, his grandparents, Glen and Ollie Rupe (Mom and Dad) who raised him; his brother, Lawrence; and sisters, Barbara and Dottie.
Survivors include his wife of 60 years, Dorothy Matusevich Quesenberry; daughters and son-in-law, Faith and Mitch Malloy of Destin, Fla. and Angie Quesenberry of Nashville, Tenn.; granddaughter; Eden Grace Malloy; sisters and brother-in-law; Ruth and Lewis Kirtner of Pulaski, and Lelia Quesenberry Thompson of Gainesville, Ga.; brother and sister-in-law, Clarence and Annabelle Quesenberry of Penn Laird; and many other relatives and friends.
Funeral services will be held at 1 p.m. on Friday, January 24, 2020, in the auditorium of the Appalachian Conference Grounds in Dublin, Va., with Bishop Preston Mathena officiating. Interment will follow in the conference cemetery.
The family will receive friends Thursday evening from 4 until 7 p.m. in the auditorium.
In lieu of flowers, the family requests that contributions be made to the Quesenberry Scholarship Fund at Holmes Bible College, 4901 Old Buncombe Rd, Greenville, SC 29617.
The Quesenberry family is in the care of Mullins Funeral Home & Crematory in Radford, Virginia.