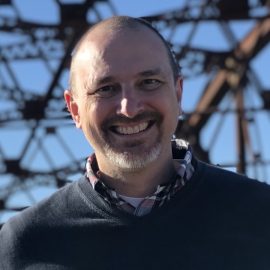 The International Pentecostal Holiness Church (IPHC) has hired James "Jamie" Cain as Director of Communications. Jamie brings over 20 years of diverse experience in the church, the communications industry, and education to the IPHC's Global Ministry Center (GMC) staff, where he will support the various ministries' communications through a variety of media, including print, web, and social media.
 "I am very excited to be part of the IPHC Communications team at this time," Jamie says, "when the denomination has so much to celebrate about the IPHC's rich heritage, and so much to see accomplished with the vision of Arise 2033."
 Jamie has been Head of Vision and Advancement for Oak Hill Classical School (Dacula, GA), which he previously served as Headmaster for 12 years, helping to develop and support the school's educational mission, vision, and philosophy through a name change, relocation, capital campaign, and facilities acquisition. His professional background includes publishing (as editor for Bibles and fiction at Tyndale House Publishers, and freelance writing and editing for other publishers); new media (as Senior Manager for Web Strategy at In Touch Ministries); education and administration (at Oak Hill, and as faculty and staff member at Emmanuel College); and ministry (as co-Campus Pastor for Emmanuel).
 Jamie grew up in the Appalachian Conference of the IPHC, where his mother currently pastors the Upper Room Church in Elkton, Virginia. He graduated from Emmanuel College in 1995 (B.A., English), the University of Georgia (M.A., English, 2000), and Covenant College (M.Ed., Educational Leadership, 2013). Jamie's wife, Kristi, is the Director of Children's Ministries, and they will be relocating with their three children to the Oklahoma City area in summer 2020.
 General Superintendent Dr. A. D. Beacham, Jr., says, "IPHC is blessed to have Jamie lead IPHC Communications. Building upon a solid foundation, I am confident his experience will be a blessing to our global family."
If you would like more information about this topic, please call Jamie Cain at (405) 792-7104, or email jcain@iphc.org.