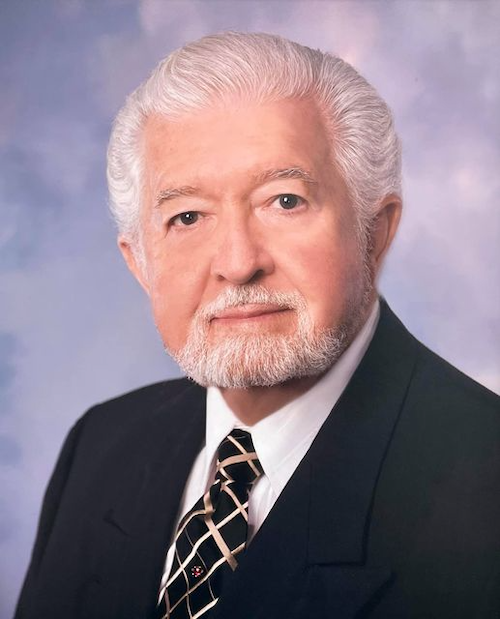 Though he served the IPHC in numerous roles, from conference superintendent to college president to denominational leader, Ronald Q. Moore was a pastor first and always. The IPHC joins his family in celebrating his life and ministry, even as we grieve the loss of this leader and friend.
"Rev. Ron Moore was a respected leader in the IPHC," said Presiding Bishop Doug Beacham, who will help to officiate the funeral. "As a pastor, IPHC World Missions Ministries administrator, college president, and Spirit Life Conference superintendent, his influence was felt literally around the world."
In 1975, after many fruitful years as pastor and superintendent in the Upper South Carolina Conference (now Spirit Life Ministries), Moore moved to Oklahoma to serve as assistant to then-World Missions Director R.L. Rex. He would continue in that role for the next 15 years, when he assumed the presidency of Southwestern College of Christian Ministries (now Southwestern Christian University).
Moore returned to South Carolina in 1998. He served as Assistant Conference Superintendent and then Superintendent, before his retirement in 2010. Ever the pastor, he continued to serve in the local church until 2020.
As so many did, Bishop Beacham knew Moore as a wise and caring friend. "He was a personal friend to me," Beacham said. "On several occasions his wisdom helped me make the right decisions for my life and service to Christ. I will greatly miss him."
Many IPHC friends will gather with the Moore family for visitation (Saturday, November 20, 2021 from 3:00-5:00 pm) and funeral services (Sunday, November 21, 2021 at 3:00 pm). The family has asked that in lieu of flowers, friends consider a donation to the Doris L. Moore Scholarship for Missions and Education (Easley First PH Church, PO Box 1227, Easley, SC 29641).
The family's obituary for Bishop Moore is below, and more information about funeral services is available at McDougald Funeral Services.
"Ronald Quentin Moore was born on August 12, 1939, in the "mill town" of Langley, South Carolina. He was one of two sons born to George Q. and Jennie Evelyn (Workman) Moore. Like most of the residents in Aiken County, both of his parents were employed in the textile industry.
Ron felt a tug in his heart toward God and spiritual matters at an early age. When he was 12, he began to sense that God had a plan for his destiny. Four years later, at age 16, Ron accepted Christ as his Savior.
Ron graduated in 1957 from the Langley-Bath-Clearwater High School. Over the summer months that year, the Lord kept dealing with him about pursuing ministerial training. So, following his high school graduation and with the persistence and assistance of his pastor and life-long mentor, Walter Hale, Ron enrolled at Holmes College of the Bible in Greenville, South Carolina.
At Holmes, Ron sought the Lord seriously about His plan for his life. The Lord's plan meshed perfectly with his natural and spiritual giftings and was exactly what he enjoyed—preaching, teaching, and pastoring.
The Holmes experience proved to be more than ministerial training for Ron. That is where he met Doris Lorene Jones, a fellow student from Laurinburg, North Carolina. He and Doris soon agreed they were meant to be lifetime and ministry partners. They were married on July 5, 1959, in Doris's home church, East Laurinburg Pentecostal Holiness.
After receiving a Bachelor of Theology degree (THD) from Holmes, Ron continued his formal education at Central Wesleyan College (now Southern Wesleyan University) in Central, South Carolina, graduating with a Bachelor of Arts degree in psychology. He also earned a Master of Education degree from Clemson University in 1975. Years later, he earned a Master of Ministry degree from Southwestern College of Christian Ministries Graduate School (SCCM). He was part of the school's first graduating class. Both Holmes and SCCM awarded Ron honorary doctorate degrees.
In 1959, the Upper South Carolina Conference licensed Ronald Q. Moore as a minister of the gospel. He was ordained into the ministry by Rev. Robert L. Rex in 1961 and was assigned his first pastorate the same year. That assignment was a new church plant in Belvedere, South Carolina, where he pastored for three years. Other congregations he pastored in the conference included Easley (five years), Taylor Memorial in Anderson (five years), and Calhoun Falls. During his pastorate at Taylor Memorial, the church became the first Pentecostal Holiness congregation to average 500 in Sunday school for a calendar year.
The Upper South Carolina Conference recognized and affirmed Ron's gifts by appointing and/or electing him to several leadership roles. Early in his ministry, he served one year as Conference Christian Education Director.
Ron had served eight years (1967-1975) on the USC Conference Board when he received an invitation from Rev. R. L. Rex to move across the country to Oklahoma and become his administrative assistant in the World Missions Department. That assignment on the general level of the denomination lasted for 15 years. During his tenure, Ron served as assistant to three directors, Robert L. Rex, Bernard E. Underwood, and Jesse Simmons. By virtue of his role in missions, Ron was granted seat and voice on the General Board of Administration and on the General World Missions Board. He also served three terms on the Holmes College of the Bible Board of Trustees.
Following the resignation of the president of Southwestern College of Christian Ministries in 1990, Ron accepted the Board of Regents' invitation to lead the school. During his eight-year presidency, the number of FTE (full-time equivalent) students increased from 82 to a high of 223, the college qualified to add the SCCM Graduate School and initiated a degree completion program.
In 1998, the Moores returned to their home conference, where Ron continued in leadership positions, including four years as Assistant Conference Superintendent and eight years as Conference Bishop, until his retirement in 2010.
Ron and Doris Moore were blessed with three talented sons: David Quentin (Carol), Timothy Ray (Pam), and Phillip Edward (Ellen); nine grandchildren, Zachary (Lindsey), Jessica, Micah (Yariana), Isaac, Emily, Joshua (Kennedy), Daniel (Bethany), Meagan, Joseph; and five great-grandchildren, Ansley, Hannah, Emerson, Harvey, Oliver. These, and countless other family members and friends, grieve Ron's passing. Ron's only sibling, James Carroll Moore passed away in 1993.
Throughout his life, Ron kept one simple principle foremost in his thinking: "Passionately pursue the will of God for my life." "I learned that to be the definition of success," he said.
The family will receive friends Saturday, November 20, 2021 from 3:00-5:00 pm at The McDougald Funeral Home. The funeral service will be held Sunday, November 21, 2021 at 3:00 pm at Taylor Memorial Pentecostal Holiness Church with Bishop A.D. Beacham, Jr., Rev. Timothy Moore, and Rev. Phillip Moore officiating. There will be a private family committal service.
In lieu of flowers, the family has requested donations to the "Doris L. Moore Scholarship for Missions and Education" fund, checks payable to Easley First PH Church, PO Box 1227, Easley, SC 29641"