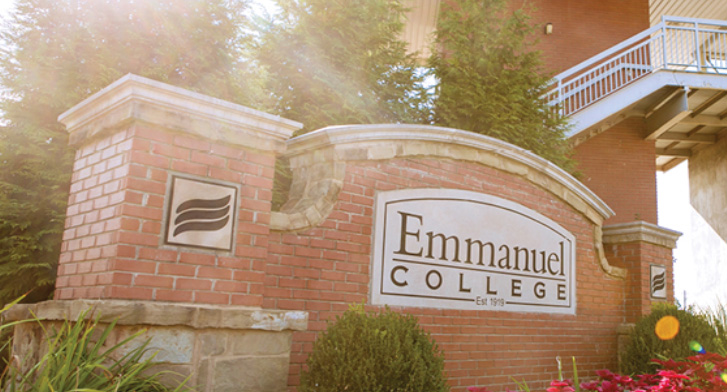 *image courtesy of  Emmanuel College
For the third consecutive year, U.S. News & World Report names Emmanuel College as tier one among private colleges and ranks EC in the Top 50 as a Best Regional College (South).
For 2015, EC moves up 10 ranks from the previous year to 47th place in regional rankings.
"The growing quality at Emmanuel is evident in the dedicated faculty and staff," says Dr. Dr. Ronald G. White, EC's new interim president. "Of course, our students contribute to the quality as well through their incredible accomplishments and outcomes. We will continue our quest for excellence in every area of endeavor open to us. I am so grateful to all who have contributed to our success."
This is also the third straight year for EC's total enrollment to be more than 800 students, which includes one of the largest groups of new full-time students at 270 and the highest number of all full-time students at 723.
"Beyond our strong academic programs and our low student-teacher ratio, EC's friendly campus community is very affordable," says Wendy Vinson, EC's Vice President for Enrollment Management and Marketing. "It's an honor to be recognized along with other outstanding colleges and universities."
This is exciting and encouraging news as Emmanuel College remains focused on its mission as a Christ-centered college to integrate faith, learning and living for effective careers, scholarship and service.
Rankings by U.S. News and World Report are considered to provide the most in-depth and complete rankings in higher education. They are based on evaluations of the top accredited four-year schools in the country and focus almost entirely on the undergraduate experience in a broad range of programs in the liberal arts fields.