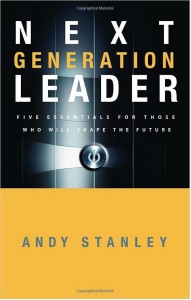 The Next Generation Leader is a great read for any leader, of any age, in any level of leadership. Andy Stanley draws on two decades of mentoring to show leaders how to:
-Discover and play to your strengths
-Harness your fears
-Leverage uncertainty
-Enlist a leadership coach
-Maintain moral authority
Stanley also goes into great detail on the "5 Characteristics of a Man or Woman who will shape the future". This is a great tool, both for seasoned leaders as well as up-and-coming leaders, to recognize areas that you exceed in as well as areas that you may need to work on. The entire book could be used in various settings, such as small groups or leadership retreats, to help grow your leadership staff and encourage them in their respective roles.
"Capable men and women will eventually catch, pass, and replace the current generation of leaders," says Stanley. "Embracing these essentials, you will not only excel in your personal leadership, but also ensure a no-regrets experience for those who choose to follow you."
To order this book please email discipleship@iphc.org