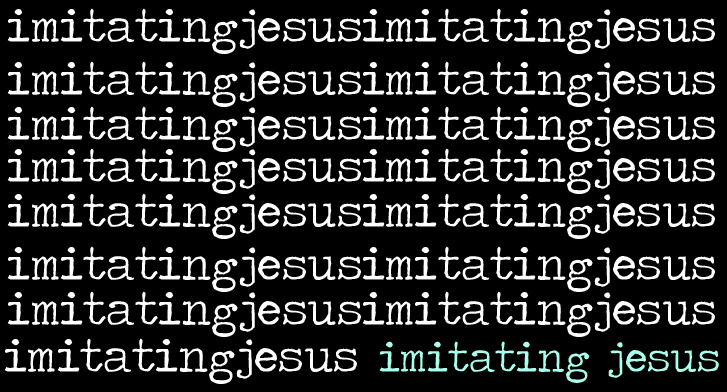 Today I want to set aside our study of discipleship in John's Gospel to look at a particular aspect of how we follow Jesus, namely the idea of imitating Christ. There are several questions related to this topic. What about Jesus' character and life are we imitate? Are we actually supposed to imitate Jesus?
I recently read an essay by Richard N. Longenecker, "'Son of Man' Imagery: Implications for Theology and Discipleship," in Studies in Hermeneutics, Christology, and Discipleship, 222-243. In it Longenecker makes the connection between what Jesus said about his own Messiahship, through use of the Son of Man sayings in Mark's Gospel, and what that means for discipleship. Longenecker argues that the background to Jesus' usage of the "Son of Man" was primarily Daniel 7 (233). In doing so, Jesus' identifies himself with humanity, and also with the glory that he receives through suffering (234). Longenecker goes on to note that Jesus reinterprets Messiahship in "three parallel cycles of material" in Mark's Gospel (235). Those three texts are as follows:
Mark 8:31. He [Jesus] then began to teach them that the Son of Man must suffer many things and be rejected by the elders, the chief priests and the teachers of the law, and that he must be killed and after three days rise again.
Mark 9:31. He [Jesus] said to them, "The Son of Man is going to be delivered into the hands of men. They will kill him, and after three days he will rise."
Mark 10:32-34. They [the disciples] were on their way up to Jerusalem, with Jesus leading the way, and the disciples were astonished, while those who followed were afraid. Again he took the Twelve aside and told them what was going to happen to him. "We are going up to Jerusalem," he said, "and the Son of Man will be delivered over to the chief priests and the teachers of the law. They will condemn him to death and will hand him over to the Gentiles, who will mock him and spit on him, flog him and kill him. Three days later he will rise."
In each of these passages Jesus indicates that his atoning work will require him to suffer prior to entering into his glory. This fits with Longenecker's claim that Jesus had Daniel 7 in mind as the background to his use of the phrase.
What does this have to do with discipleship? When one looks at the immediate context, in particular the words of Christ following each of the above passages, there seems to be a connection. In Longenecker's own words, "[I]n chapters 8, 9, and 10 …, Mark not only presents Jesus as three times defining the nature of his ministry in terms of the suffering Son of Man and three times depicting the disciples as unable to apprehend Jesus at this point, but also three times portrays Jesus as setting forth the nature of true discipleship" (240). Let's look at each of the following passages:
Mark 8:34-35. Then he called the crowd to him along with his disciples and said: "Whoever wants to be my disciple must deny themselves and take up their cross and follow me. For whoever wants to save their life will lose it, but whoever loses their life for me and for the gospel will save it."
Mark 9:35. Sitting down, Jesus called the Twelve and said, "Anyone who wants to be first must be the very last, and the servant of all."
Mark 10:42-45. Jesus called them together and said, "You know that those who are regarded as rulers of the Gentiles lord it over them, and their high officials exercise authority over them. Not so with you. Instead, whoever wants to become great among you must be your servant, and whoever wants to be first must be slave of all. For even the Son of Man did not come to be served, but to serve, and to give his life as a ransom for many."
What we find is that Jesus clearly serves as the pattern for the life of his disciples. Just as their Lord is called to suffer, so too they are called to suffer. Granted, the disciples' suffering does not atone for anyone's sins. Nevertheless, there seems to be clear evidence that Jesus expects his disciples to suffer like him. And this is something we find throughout the rest of the New Testament. Jesus' disciples are called to share in his sufferings (cf. Romans 8:17; Philippians 3:10-11) and to follow Jesus' example of how one should handle suffering (1 Peter 2:21-23).
How else does Jesus serve as an example for his disciples? Are these examples clearly taught in Scripture?

Keith Marriner joined LifeSprings in 2009 and serves as executive editor of all IPHC Sunday school curriculum. Prior to that he served at Emmanuel College in a variety of roles, including admissions counselor and adjunct professor in the School of Christian Ministries. He received a B.A. in Christian ministries from Emmanuel College and an M.Div. and a Th.M. from Southeastern Baptist Theological Seminary. He is currently pursuing an Ed.D. in Christian Education from Southeastern Baptist Theological Seminary. Keith resides in Franklin Springs, GA with his wife Jennifer and their two daughters, Cora and Eleanor.