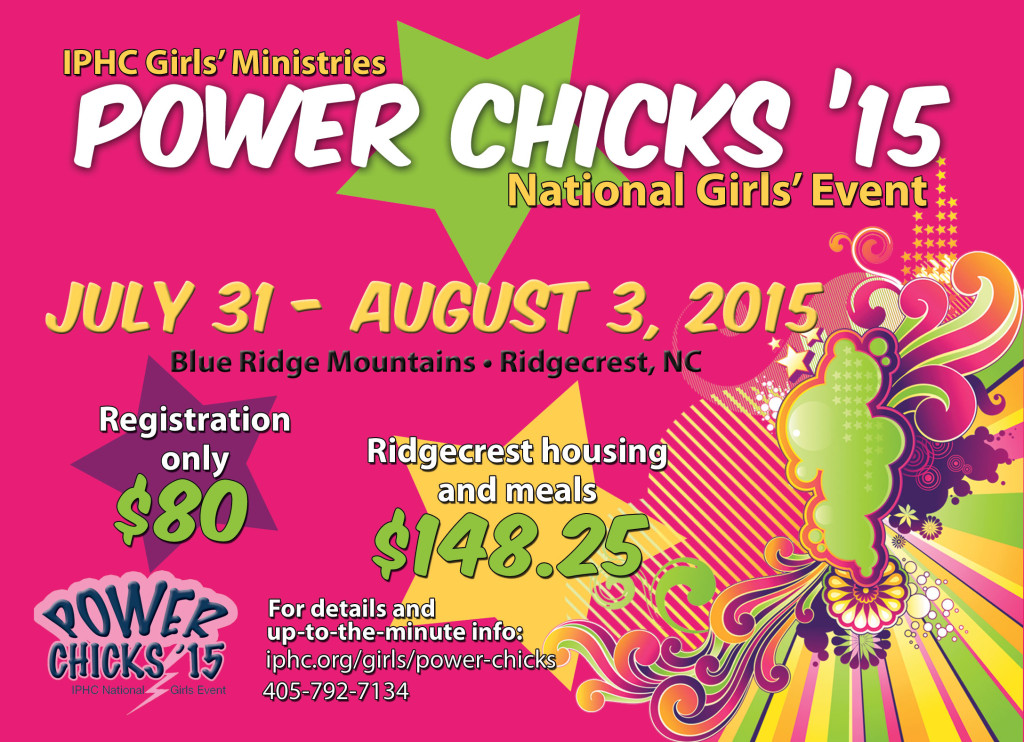 Power Chicks '07 was the first event of its kind for the girls of the International Pentecostal Holiness Church (IPHC). And now we are counting down the days to the start of Power Chicks '15!
Power Chicks is an all-girls event taking place in Ridgecrest, North Carolina, July 31-August 3. Third Grade to High School Seniors are invited to attend this weekend event full of games, activities, and morning breakout sessions geared specifically towards girls. Evening services will take place each night with praise and worship and a guest speaker.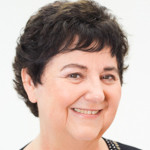 Girls' Ministries National Director Irvina Parker will kick off the weekend with a special service Friday evening. Currently serving her fourth term as the director of Girls' Ministries, Irvina has been employed at the Global Ministry Center since 1974 when she began working part time in Women's Ministries while attending college. She graduated from Emmanuel College, with her Associates Degree, and Southern Nazarene University where she received her Bachelor's Degree in Elementary Education with a concentration in English.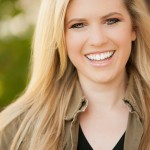 Katlyn Moncrief-Bryan will lead the Saturday evening service, as well as lead a Saturday morning breakout session. Katlyn, a 25-year-old Georgia native, is a dynamic communicator who is passionate about empowering, encouraging, and equipping this generation to live life to its fullest potential in Christ. She currently resides in Virginia Beach, Virginia, where she serves as Co-Student Pastor of Bridge Church with her husband, Jeremy Bryan.
A graduate from Emmanuel College in 2012 with a Bachelor of Science Degree in Christian Ministries, Katlyn is currently pursuing her Master's Degree in Global Organizational Leadership from Regent University.
Katlyn was crowned Miss Georgia International Miss 2013, and currently holds the national title of America's Majestic Miss 2014. She won first place in the International Miss national speech competition. These titles have allowed Katlyn to be a Christian influence in a secular world.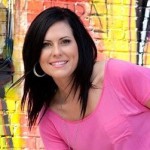 Sunday evening's speaker, along with a breakout session for older girls, will be Amy Lambert-Frowine. Amy began using drugs and alcohol at the young age of twelve. By nineteen, she found herself severely addicted to drugs injecting opiates up to twenty or thirty times a day. This led her to a near-death experience in the hospital, completely hopeless and broken. It was during this dark hour Jesus Christ became real to her as He extended His hand of love and mercy. This was the beginning of her life transformation, as the needle and spoon she once held were replaced with a Bible and an unquenchable fire to tell others about salvation and freedom, which come only through Jesus Christ.
Amy is a graduate of Mercy Ministries of America and received ministry training under Joyce Meyer Ministries at the St. Louis Dream Center, as well as under Evangelist Reinhard Bonnke. Amy is the founder of Hope Uprising and City Invasions, and travels nationally and internationally preaching revivals, conferences, as well as training and empowerment sessions to equip the body of Christ to become soul winners. Her ministry has been featured by Joyce Meyer's "Enjoying Everyday Life," CBN's 700 Club, Billy Graham's "Ransom Note," and "Today's Christian Magazine."
Power Chicks 2015 will conclude at the Monday morning celebration service. Attendees will be free to head home after the service.
Registration and fund raising information can be found on the Power Chicks website, along with a special guideline packet that will walk you through the entire registration process, answering any questions you might have.
For assistance in registering for Power Chicks '15 please contact Irvina Parker at iparker@iphc.org.