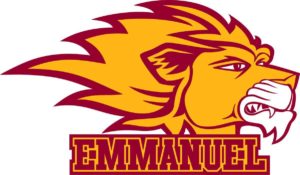 Franklin Springs, GA – The Emmanuel College Lions men's soccer team ended the 2016 season by competing at NCCAA Nationals and thus ranking number 2 in the country for NCCAA.
"This is the highest ever ranking in the history of the soccer program here at Emmanuel."
The All-American Awards were also given out during this tournament, and five of the Emmanuel soccer men were awarded. Danny Cameron and Andy Dunnett from the 1st Team, Nico Becker and Sean Fitz Gerald from the 2nd Team, and finally Martin Mitreski from the 3rd Team. This is the most players that have ever been named to any All-American teams in one year.
More awards were also awarded to Craig Russell, Josh Smith, and Marcus Larsen. These three men earned a spot in the NCCAA National All-Tournament Team. Craig Russell, who is also captain of the men's soccer team was given this award for the second time after earning it in the 2015 season. All three of these men played heavy defense and led the Lions to the National Championship match, and not allowing a single goal to be scored in 368 minutes. This was a record, as no other team at the National Tournament conceded less goals.
Congratulations to the men that received awards and to the men's soccer team as a whole for playing an incredible four matches and making history in the process for Emmanuel's Soccer program; you have made Emmanuel proud.  For more information on the Lions, please visit www.goeclions.com.
Photo Credit: Mackenzie Dye
*As posted on Hugh's News.