For several months now, we have heard that older adults are among the most vulnerable when it comes to COVID-19. Nursing homes have been on lock-down, friends and family are encouraging loved ones to stay home and get groceries delivered, and visits are occurring through windows. Even as restrictions are loosening and churches begin to re-gather, older adults may be some of the last to return to in-person activities.
During COVID-19, it is imperative that older adults find ways to serve others with their time and experience. Research supports that having purpose and a reason to get out of bed in the morning is a key to successful aging. More importantly, as Christ-followers, we never reach an age where God no longer has a purpose for our lives. If we are still drawing breath, our lives still have meaning.
So how do we mobilize older adults to make a difference even while remaining socially distant?
1. Consider how their skills, hobbies, and interests can be used for ministry. Nearly all of us have heard of women (and maybe some men, too) sewing masks for hospitals, first responders, community organizations, and friends and family. This communicates love, care, and hope for so many in the community. And while the sewing and assembly may be done privately in one's home, those helping know that they are a part of a team working together to provide masks for organizations in need.
Operation Christmas Child sends millions of shoeboxes full of gifts to children around the world who would otherwise not receive anything. As a part of the shoebox delivery, children are told about the love and hope found in Jesus. There are many gifts that can be made and assembled from home to insert in these boxes. Project ideas include (but are not limited to) making necklaces out of beads, building small wooden toys, assembling fishing kits, making a homemade tic-tac-toe game, sewing hand puppets, or painting wooden tops. These toys and simple gifts could also be donated to homeless shelters, Boys and Girls clubs, or other youth organizations.
Joint activities, like those mentioned above, encourage a feeling of community and togetherness. Even though people may be working on the project in the privacy of their own home, there is a sense of camaraderie and the knowledge that they are contributing to something greater than themselves.
Taking this further, leaders can give regular updates of the total amount of masks made or toys built and how many people this is serving in the community and world.
In addition to what can be made, consider what skill an older adult could teach. With the use of Facetime, Skype or Zoom, older adults can lead a weekly class with their grandchildren or other young people on a variety of topics. I know of a grandma who is teaching journalism to her grandchildren via Zoom and they are even producing a simple family newsletter.
2. Look for opportunities for older adults to share wisdom & encouragement. Older adults are the best positioned guides to help others navigate this difficult time in our nation and world because they have the life experience of surviving through past crises. Shortly after COVID-19 hit and social-distancing went into effect, I interviewed several older adults about past moments in their lives that compare to today's pandemic. One woman in her 80s recalled the nervous feelings she felt as a young wife and soon to be mom during the time of the Cuban missile crisis. Her husband was traveling for work at the time and she recalled that a co-worker and friend offered to let her sleep at her home, so as not to be alone. Other older adults I talked to remembered seeing signs hanging in the windows of homes in their neighborhoods indicating that particular homes were quarantined because someone living there had the measles, chicken pox, or another illness.
Because of their life experience, older adults can offer some of the best advice right now: "Take comfort in the fact that we are all in this together," "You are not alone," and "This too shall pass."
A church in the southeast recognized what their older adults had to offer and mobilized them to write letters and cards of encouragement to the church's high school seniors. Due to COVID-19, these young people (as well as millions across the nation) are grieving the loss of traditional graduation celebrations, school proms, and other meaningful traditions. What a gift to read words from an older adult who has also walked through hard times and cares about what these young people are experiencing and is praying for them.
Another church made packets of greeting cards available for older church members to pick up at the church so that they would not have to go into a store. They were encouraged to write notes to other church members and friends and deliver them back to the church to be mailed.
3. Seize the time for older adults to capture their legacy. Now is the perfect time to gather the life stories of older adults. With people limiting their activities and staying home more, the opportunity is available to make a phone call or set up a zoom meeting to ask questions and learn the rich history of older relatives or older people in the community. It's a great activity for young people to do with their grandparents or children and teenagers to do with older members in their church.
Scripture reminds us over and over of the importance of one generation passing on their faith and wisdom to the next generation. Psalm 78:4 says, "…we will tell the next generation the praiseworthy deeds of the Lord, his power, and the wonders he has done." It doesn't necessarily require a young person setting up an interview with an older adult. An older adult can initiate the process. I have interacted with many older people who have written down or made an audio or video recording of their personal stories to share with family and friends.
A quick search on the internet with key words like "writing your legacy" or "questions for interviewing family" can serve as a guide. There are many books available with writing prompts and interview questions as well.
Some questions to consider before getting started:
What is your birthday? And where were you born?
How did you learn to drive? What was your first car like?
What is one of your most memorable vacations?
Tell me about your earliest faith experience.
What is a Bible verse or biblical story that has been especially meaningful to you? Why?
While social-distancing definitely has its challenges, there are still many ways that older adults can have a significant impact with their lives. No matter what our age, let's all work together, (even though we may be apart) to make a difference in our communities and our world!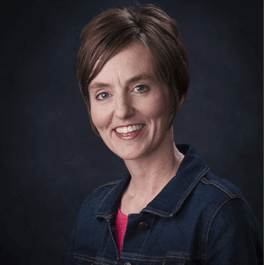 Dr. Amy Hanson is a speaker, writer, and consultant with a passion to help older adults discover a life of Christ-centered meaning and purpose. She speaks throughout the United States to pastors, health care professionals, and older adults on the unique needs and opportunities of a graying America. Amy has a Bachelor's degree in Bible and Family Ministry from Manhattan Christian College, a Master's degree in Gerontology from Abilene Christian University, and a Ph.D. in Human Sciences from the University of Nebraska. She teaches several aging courses at the college-level and has conducted research on volunteerism among older adults in the church.