Writing about a spiritual encounter in 1895, B.H. Irwin—founder of early IPHC known as the Fire-Baptized Holiness Association—said, "I was out in Oklahoma in a sod house about 10 or 11 o'clock" and "Praise God forever and ever," I got the "real experience of the baptism of fire" because I felt "that I was literally on fire." "For five hours I felt that I should certainly be consumed." "My fingertips were even hot and seemed to burn in the manifest presence of the in-working Diety." "It makes me feel good when I think that the Spirit has free access to my soul, bless His name forever and ever!" Eager to tell others about this, Irwin published a tract titled "Red Hot Holiness"!
Irwin returned to Indian Territory in 1897 and organized a Fire-Baptized Holiness Association in El Reno. While in Oklahoma Territory, he wrote:
Oh the fire, the blessed fire!

How it blazes, burns and glows,

Leaping, dashing, rising higher,

The more severe the north wind blows.
Irwin was followed in leadership in 1900 by J.H. King, a graduate of the U.S. Grant University School of Theology in Chattanooga, Tennessee. King's first trip to Oklahoma was to Lamont in 1902 when the FBHA held their national meeting and changed their name to the Fire Baptized Holiness Church. In 1905, King conducted a revival in Snyder, Oklahoma Territory. Not long after he left, a large section of the town was blown away in a tornado.
The first Pentecostal meeting held in Oklahoma Territory was hosted by the FBHC in Lamont, OK late in 1906 with Glenn Cook from the Azusa St. Revival. [See below "Pentecost in Lamont, Okla" by Glenn Cook, The Apostolic Faith 1:5 (January 1907)]. A larger meeting was held in Lamont the next year under the leadership of J.H. King that included Glenn Cook and GB Cashwell. Lamont at this time was a thriving community with a hotel thanks in no little part to the Railroad.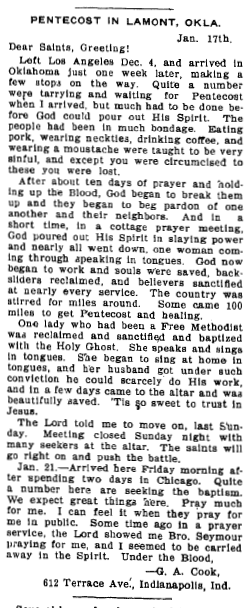 LH Wentz published an article in the Apostolic Evangel 1:18 (11/1/1909, p. 5) where he explained that the FBHA church in Lamont started in his home in 1899. By 1902, the Lamont FBHC had a church and a parsonage. Wentz had traveled 62 miles to hear the FBH message after reading about BH Irwin in The Way of Faith.
In 1909 Henry P. Lott—who had a house on Westlawn Street in downtown Oklahoma City—was appointed FBHC Ruling Elder for Oklahoma and the next year he organized the Blue Front Saloon Mission into the First FBHC of Oklahoma City. He had already opened a Rescue Home in downtown Oklahoma City. About this same time, FBHC leader Daniel Awrey took charge of the Emmanuel Bible School in Beulah, OK which produced many members for what is now IPHC. In 1911, Agnes Ozman LaBerge, designated by some USA historians as the first 'Pentecostal' of the 20th Century joined the FBHC in Oklahoma centering her ministry in Perry, OK.
Miss Mattie Mallory, an 1889 graduate of Baker University, accepted briefly in 1897 the superintendency of a Fire-Baptized Mission in Winnipeg. Having changed trains in Oklahoma City while enroute to the Canadian assignment and sensing a call to minister to homeless children there, she quickly responded in August to an invitation from Reuben E. Hershey to conduct a school for orphans and children of evangelists in conjunction with the mission and home he recently had opened on Reno Street in downtown Oklahoma City.
By 1909 Miss Mallory moved her orphanage and rescue home from Beulah Heights to Bethany, OK which is also the present location of the IPHC headquarters. She was joined in this effort by C.B. Jernigan who shaped the new town's charter that sought to achieve holiness ideas of moral and civic righteousness.
Miss Mallory had 200 acres designed to use agricultural enterprises to enable the orphanage to be self-sustaining. Her efforts at starting a school evolved into what is now Southern Nazarene University, which occupies land dialogically across 39th Expressway. In 1975, the Children's Convalescent Center of Bethany, successor to the Oklahoma Orphanage, was placed under the custody of the IPHC. In an act of resolute generosity, the IPHC released the Children's Center and granted it sovereignty in 1990s.
The recent photos below were taken by David Parker from a 2016 visit to Lamont, OK, with Jesse Heath and myself that shows the original FBHC building that is now used by civic organizations. The photos of Lamont from the era depicted in this article were taken from Ardis Gautier, A Place Called Home: The History of Lamont, Oklahoma: 1893 to 1993.
Here is an 2016 article I wrote about early IPHC in the West: https://iphc.org/gso/2016/02/22/headlines-from-the-west/?fbclid=IwAR3UcFitWAujyI-cCNmTm6flq0olD3UmTRlKFqeV7v_my1UUecE9F3h_A28
Dr. Harold D. Hunter
Director
IPHC Archives & Research Center
Note: Click on the images below to see a larger view.