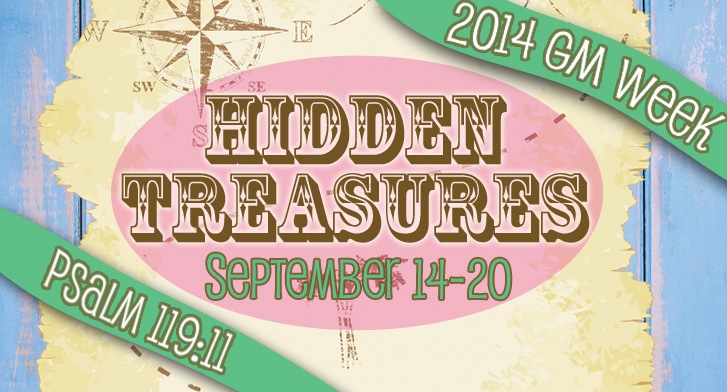 Girls' Ministries Day is set for September 14, 2014, and GM Week runs from Sept. 14-20. This year's theme, "Hidden Treasures," will focus on the Bible and its importance to us as Christians. In the "7 Core Values" presented by IPHC leaders at last year's General Conference, the first one states, "We prayerfully value Scripture," and that core value is being highlighted this year by the denomination.
The GM Week planning packet is available for download by clicking here. This link will take you to the download page for GM Week. From that page, you can download the packet as well as other items.The packet will provide various ideas for presenting the theme on that Sunday as well as lots of ideas for celebrating with your girls the entire week.
Talk to your pastor about allowing your group to have at least a few minutes on GM Day to highlight your ministry. A PowerPoint presentation will be added around the first of September that you can use as it is or pull from. We also encourage you to receive a GM Day Offering to be divided half and half between your local GM treasury and your conference GM treasury. Supporting your conference allows them to create events for your girls and support for your leaders.
PINTEREST LINKS
There are two different Pinterest Boards this year connected to Girls' Ministries Week. One is connected specifically to the theme "Hidden Treasures" while the second is more closely related to the IPHC Core Value #1–We Value Scripture. Both are filled with ideas for this week so be sure to check them out at the links below:
We Value Scripture–Core Value #1
BONUS IDEAS
Over the course of the next couple of weeks, you will find bonus items such as a crossword puzzle, a memory game, a PowerPoint slide show for GM Day, and other related support items. As always, those will be added to our GM Week BONUS page. Check it out by clicking here. These will be changed from the 2013 files to the 2014 files as they are completed.