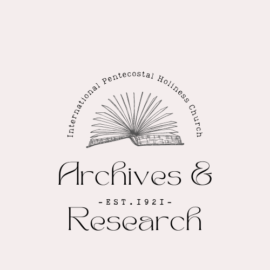 Our mission is to serve the people of the International Pentecostal Holiness Church by preserving and sharing their history. We invite you to share your photos or other memorabilia with us for possible inclusion in the archives. Any physical artifacts will need to be discussed prior to sending them by mail, so please do not hesitate to reach out to the Director of Archives, Kristen Welch, at kwelch@iphc.org or by phone at (405) 787-7110 ext. 7157. You can also fill out this form if you like.
We Need Your Help
Despite considerable gains to our collection, it has often been impossible to locate originals—or even copies—of rare publications produced by the IPHC. We are missing many originals of the following IPHC periodicals:
Live Coals of Fire (1898-1899)
Live Coals (1902-1907)
Holiness Advocates (1900-1908)
Apostolic Evangels (1909-1917, et al)
Bridegroom's Messenger (1907-1909, et al)
Related periodicals that have been the object of extensive searches are:
The Way of Faith (1903-1918, et al)
The Altamont Witness (1911-1918, originals).
Additional serials of interest include:
Little Pentecostal People
Twilight Echoes
PHC Sunday School Magazine (1920s);
Southwestern PH News
The Pentecostal Holiness Herald.
We also lack a complete run of conference minutes from all conferences.
Other items we are interested in
Images that relate most to our mission must clearly identify persons, location and date of national conferences and conventions, camp meetings and the like.
Sermons by general superintendents and general officials that are handwritten, typed, transcribed, or on audiotape, video, CD, DVD, etc., are in short supply.
Histories, diaries, tracts and publications by and about women ministers are particularly underrepresented, as are Hispanics, African-Americans and Asian-Americans in North America.
Yearbooks from schools, starting with Altamont Bible & Missionary Institute, Falcon Holiness Church, King's College, Sharon Bible College, Franklin Springs Institute, Southwestern College and Pacific Coast Bible College are sought as historical resources.
Materials that are kept by the IPHC Archives & Research Center will survive to future generations because everything in the fire-rated Archives vault is securely maintained in a controlled environment where humidity, temperature and light exposure are constantly monitored. We are the first stop for serious researchers of IPHC materials and a wide range of needs that serve our church community.
Psalm 77:11
I will remember the deeds of the Lord; yes, I will remember your wonders of old.